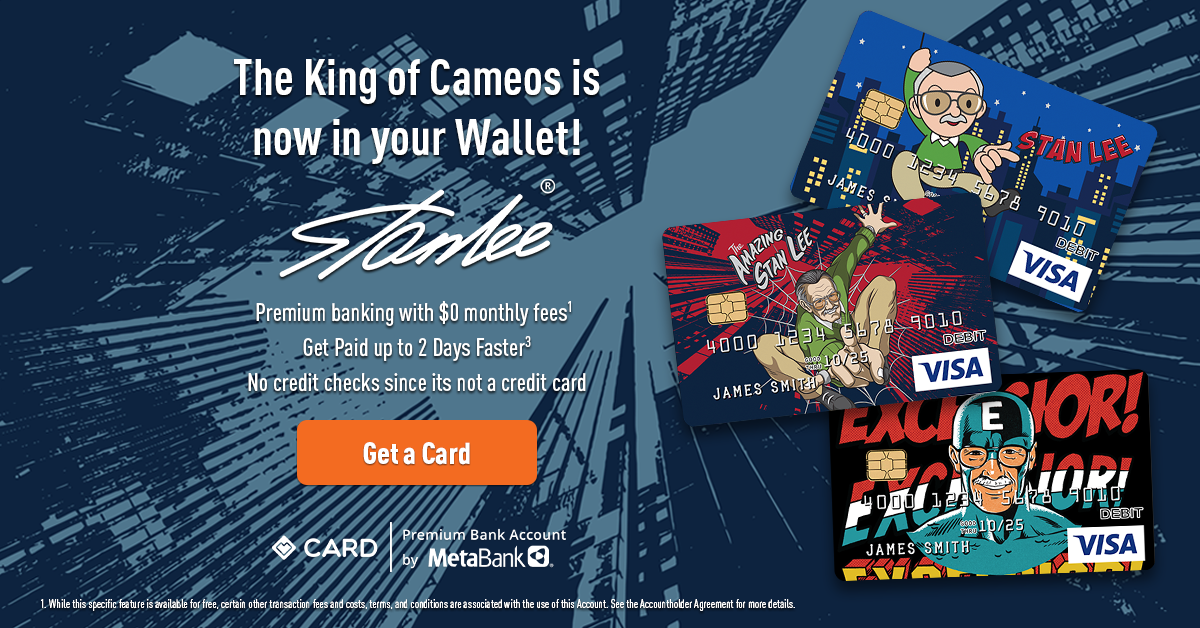 San Diego Comic Con kicks off today!
Stan Lee's association with the convention basically stretches across its entire 50+ year history, as this 1975 promo proves.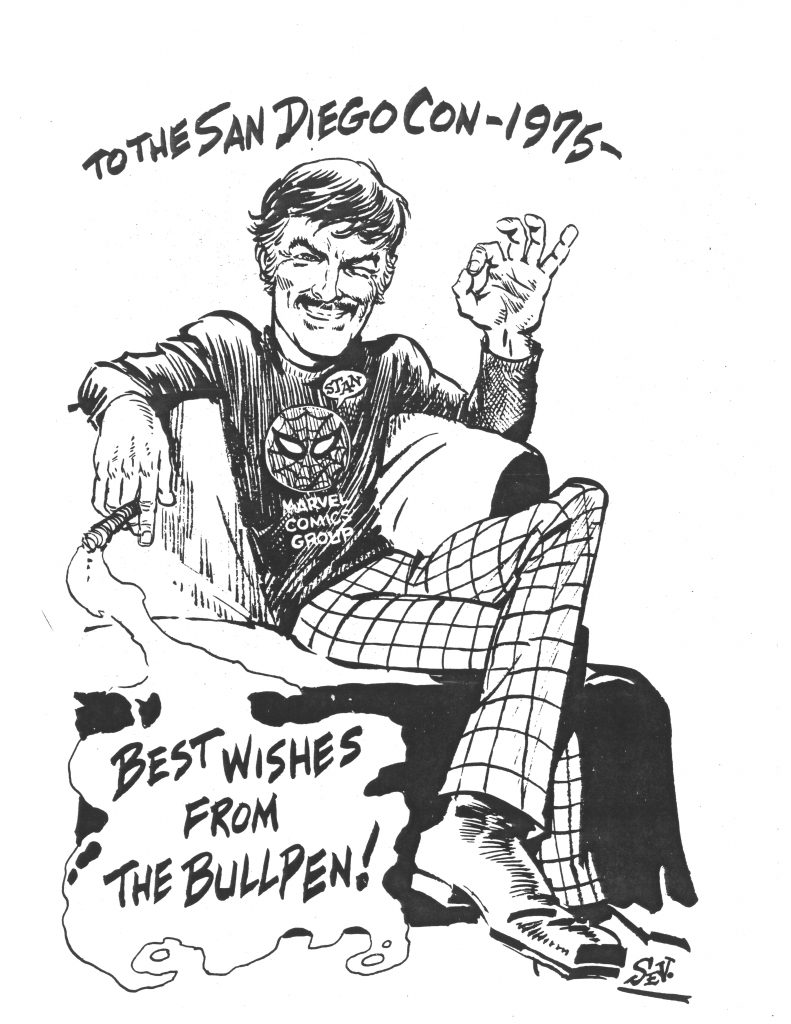 More recently, fans could catch a glimpse of Stan at SDCC each year from 1995 to 2017, save for 2001.
Over the last few years on this blog, we've shared memories of experiencing the convention with Stan and behind-the-scenes stories. We've also covered Stan-related projects and panels. Heck, in 2019, we even took the Little Stan Lee Plush around to snap photos with fans! (For those wondering, the Little Stan Plush should be back at SDCC 2022.)
This year, to celebrate SDCC and Stan's long history with the convention, we compiled some of our favorite photos of Stan at the con. Please enjoy as we take a trip down memory lane!
Stan at Work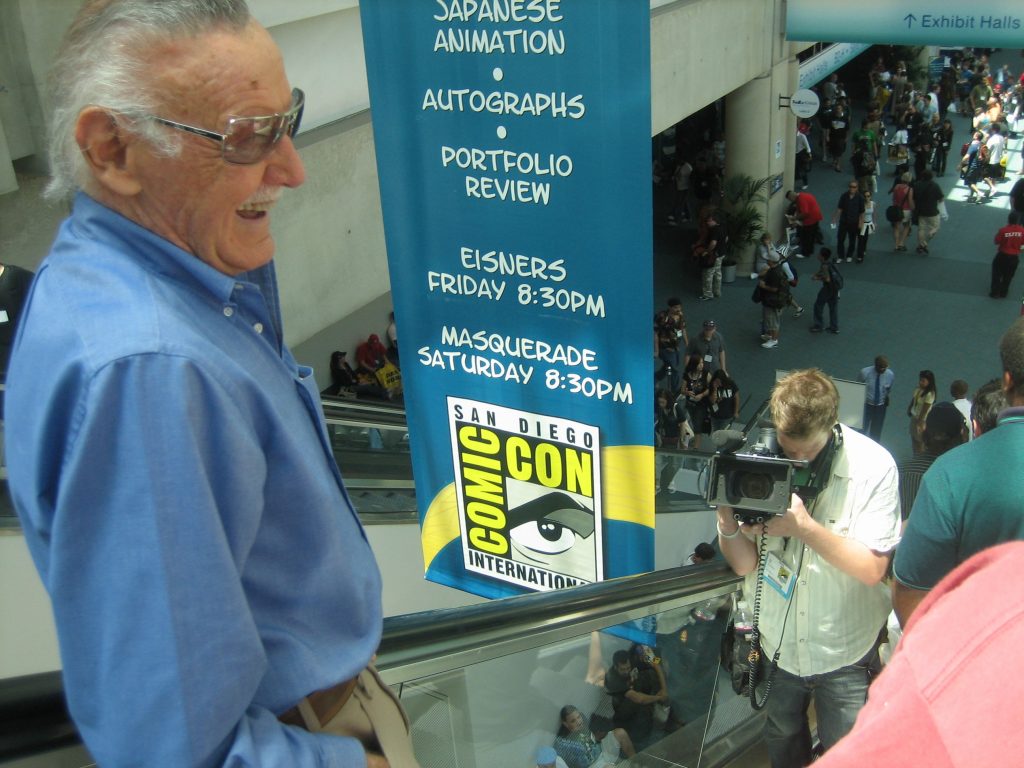 We snapped this photo in 2007 when Stan was shooting Who Wants to be a Superhero? for the Sci-Fi channel. We simply love his expression here. In 2019, we also got to recreate this photo – sort of – with the Little Stan Lee Plush!
Listen! Stan's Speaking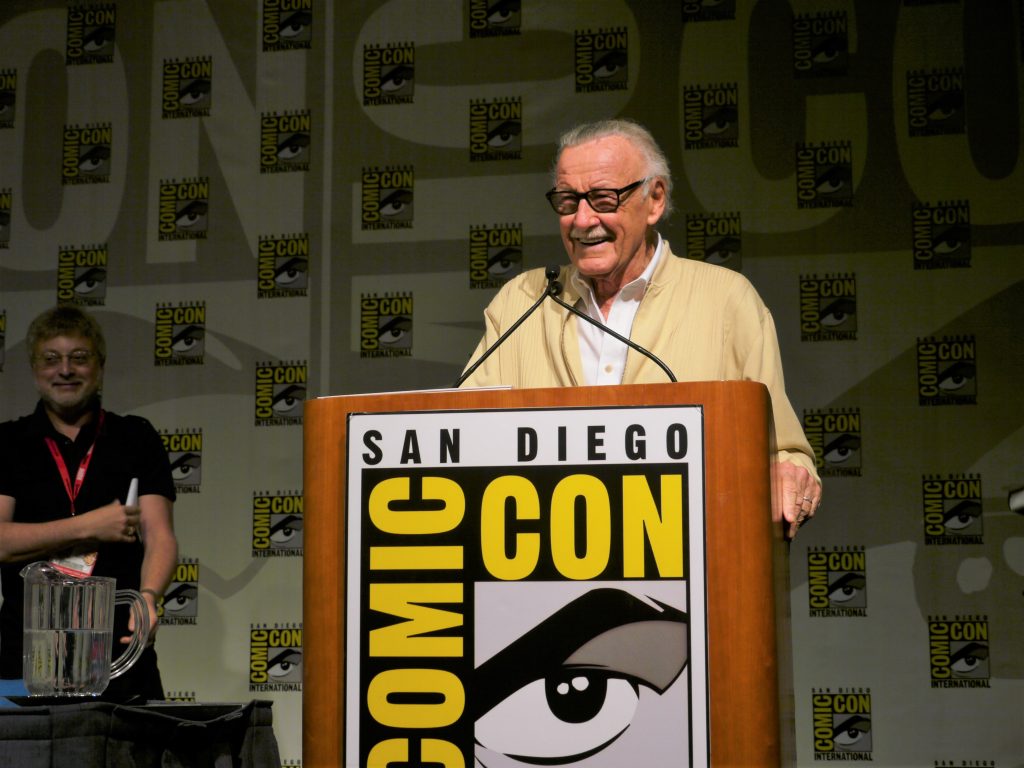 Obviously, Stan attended a ton of panels over the years. Whether he appeared in Hall H or smaller rooms, Stan enjoyed being on panels and talking with peers and fans. This picture captures Stan at the podium in 2007, and we are 100% sure he was captivating the audience.
Stan + Celebrities
Stan also ran into a huge amount of TV and movie stars at San Diego Comic Con. From the back halls of the convention center to the rooftop of the building to the IMDb boat in the harbor, Stan was always happy to snap a picture with a fellow celebrity, many of whom were big fans of his!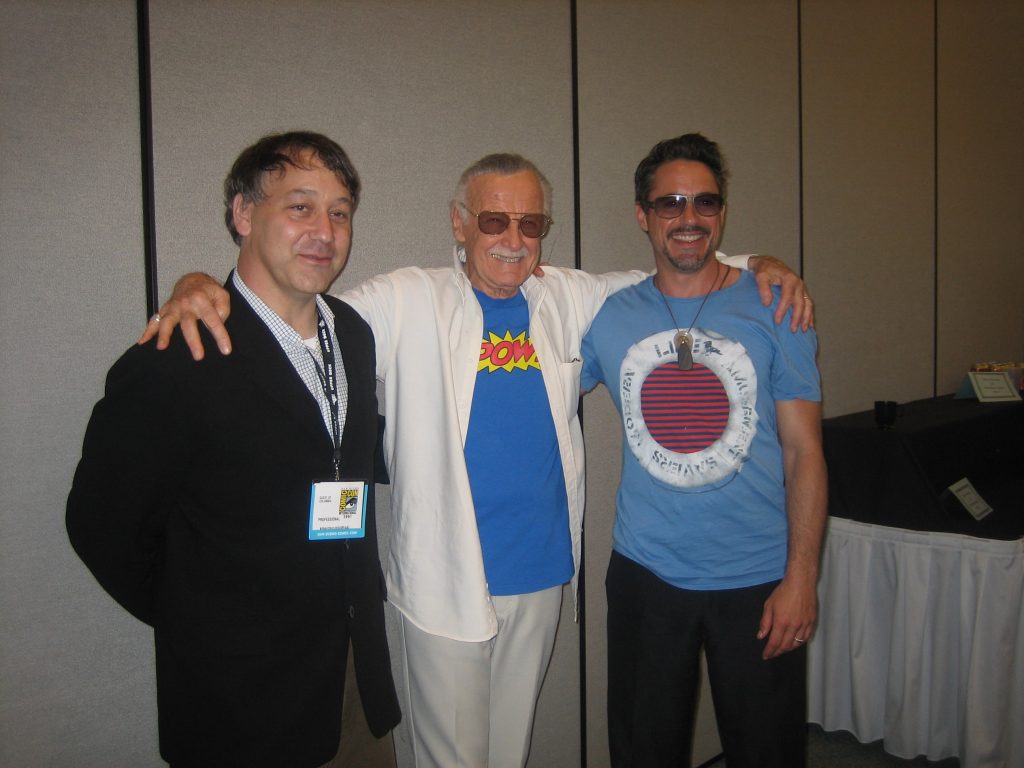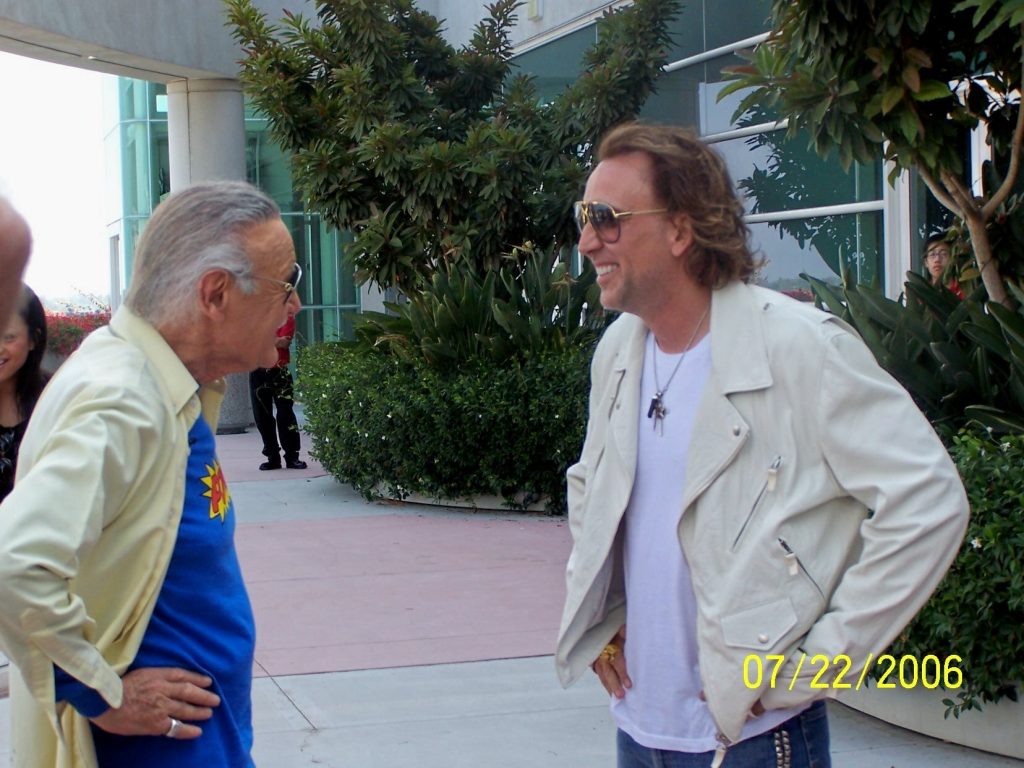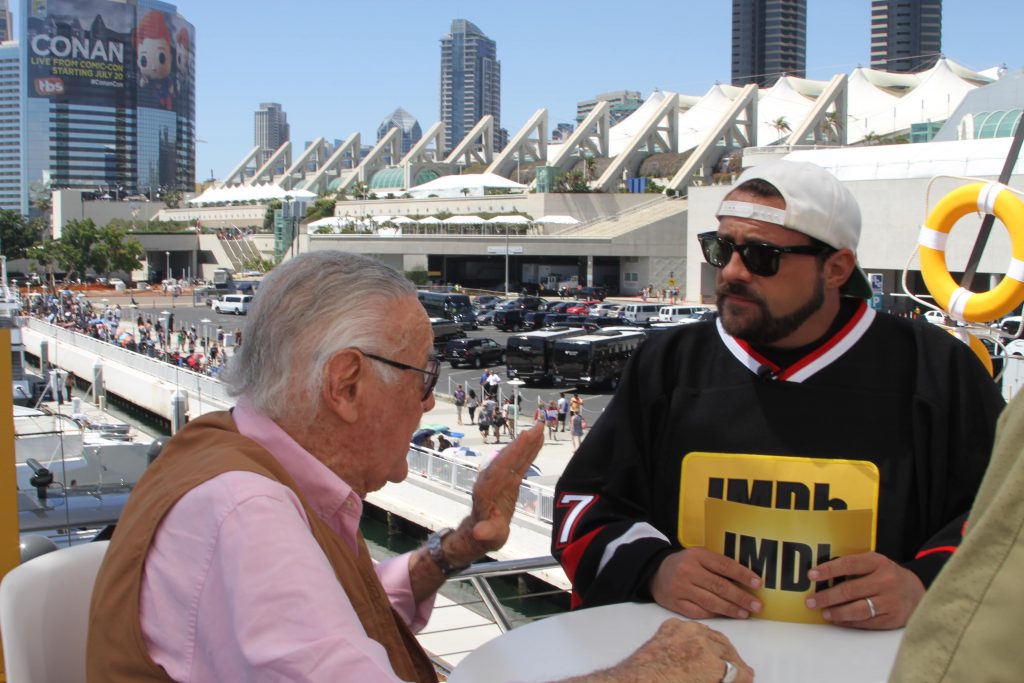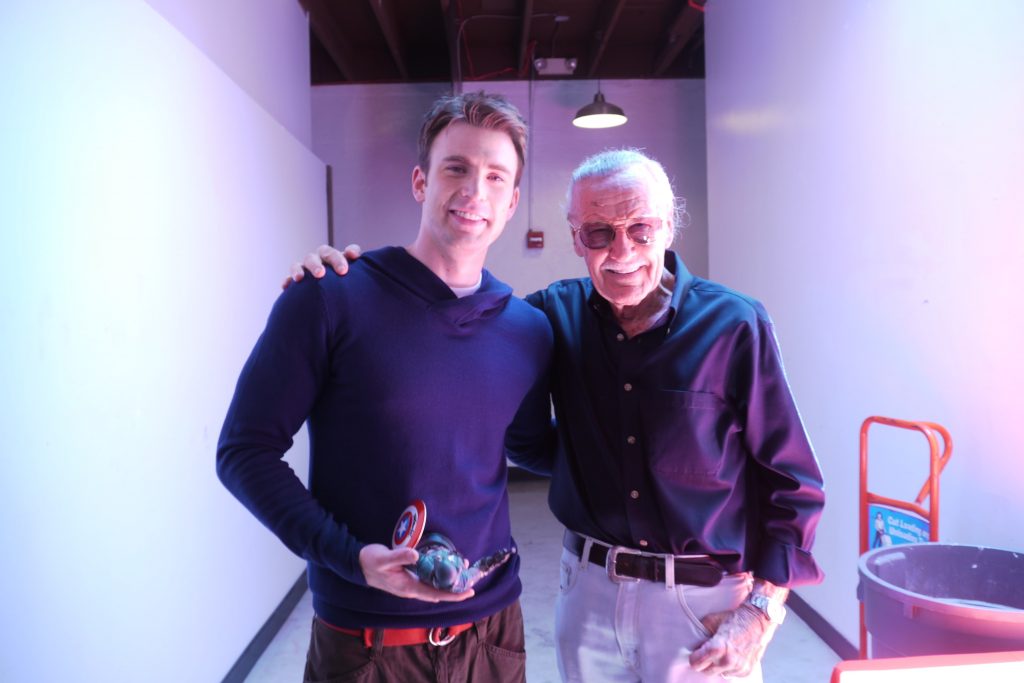 Speaking of celebrities, below we present another angle of the epic 2015 SDCC selfie with Stan and part of the casts of Wolverine, Deadpool, X-Men: Apocalypse, and Fantastic Four.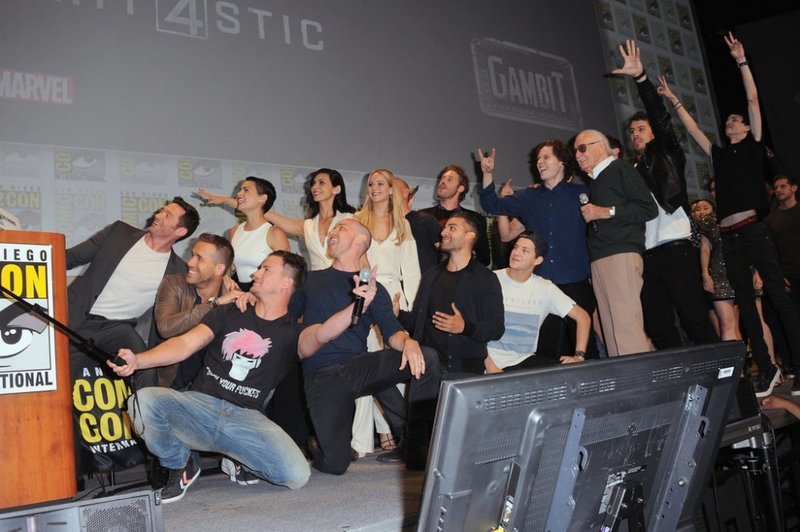 Stan Having Fun!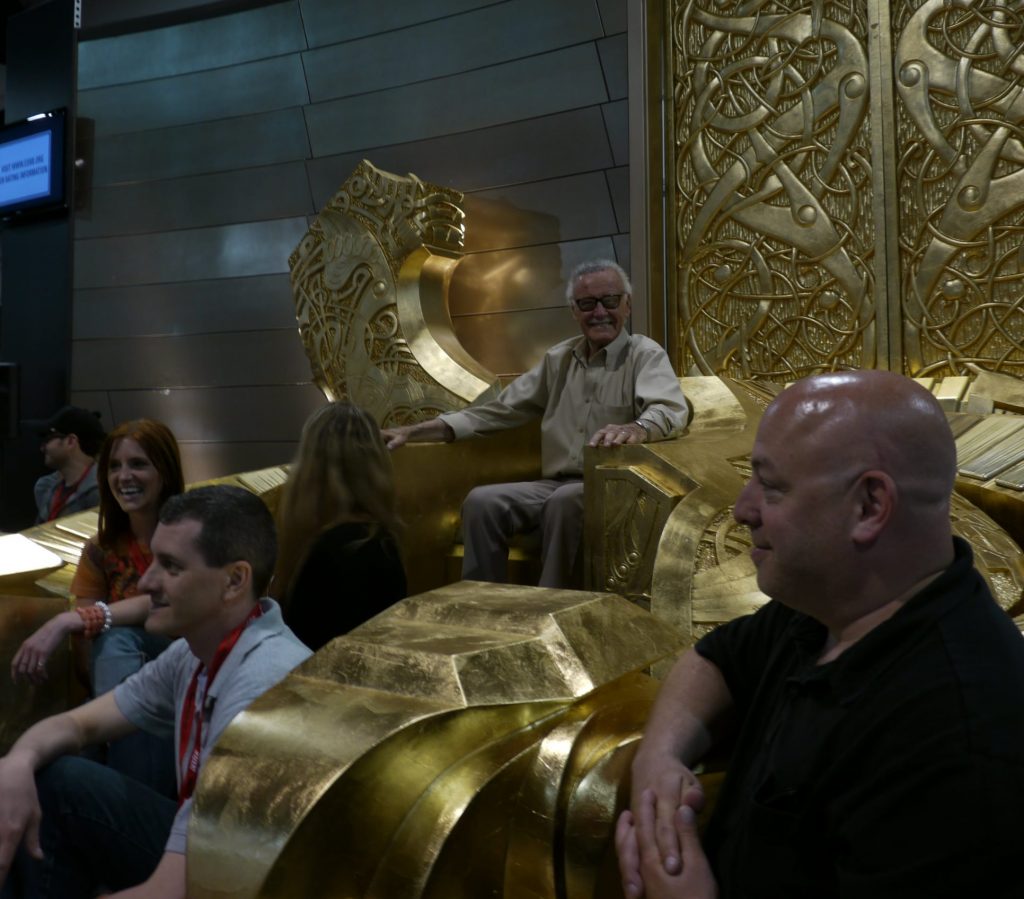 Stan posing on Odin's throne – of course this is a Kodak moment.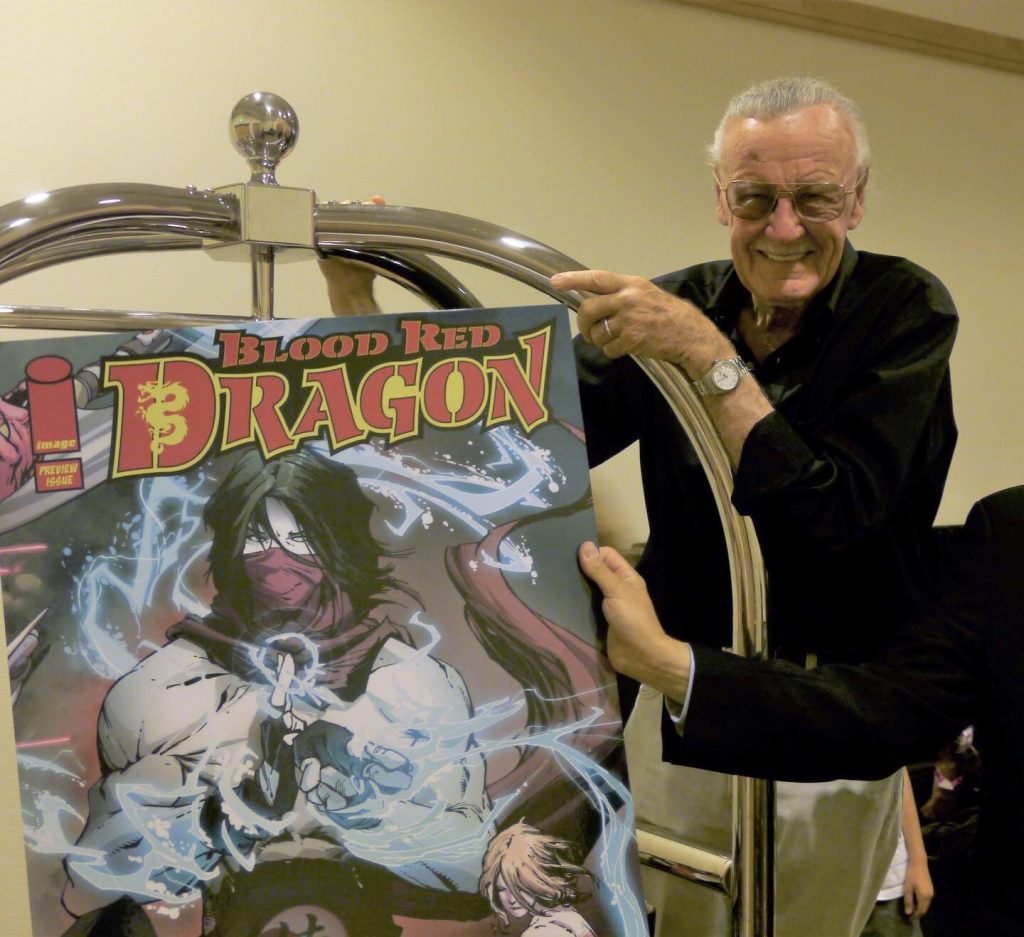 Stan traveled in cars, planes, golf carts, and his own two feet to conventions around the world. But this counts as the first – and probably only time – he jumped on a luggage cart! (He didn't go very far on it, don't worry.)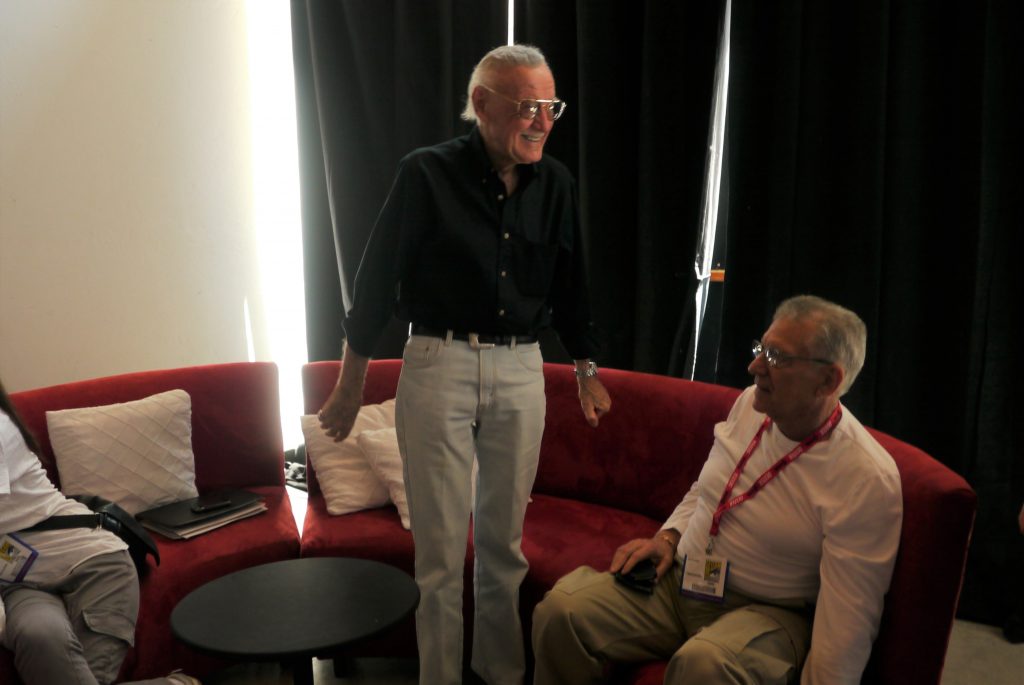 We included this picture solely because of Stan's stance and expression. While we know we shot this in 2011, we don't recall the occasion. He obviously was excited to see someone or hear some news!
Stan Meets Cosplayers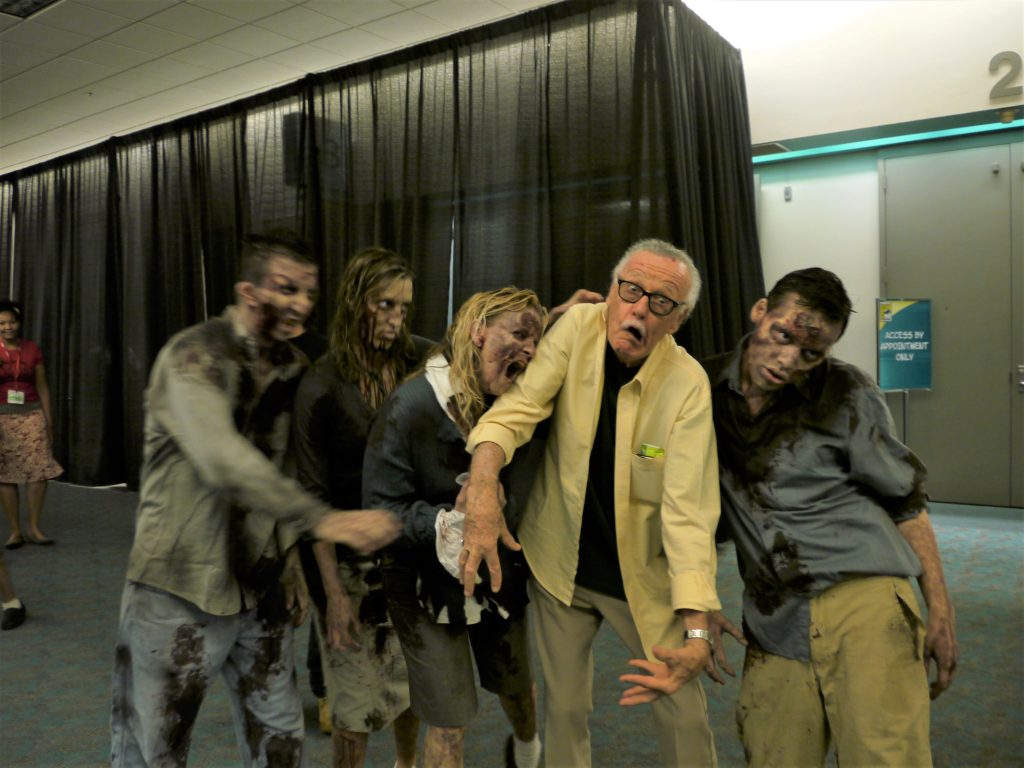 Stan always tried to pose with fans when they asked. And as this 2010 picture with The Walking Dead cosplayers illustrates, he wasn't afraid to get into character, too!
Stan Enjoying Some Downtime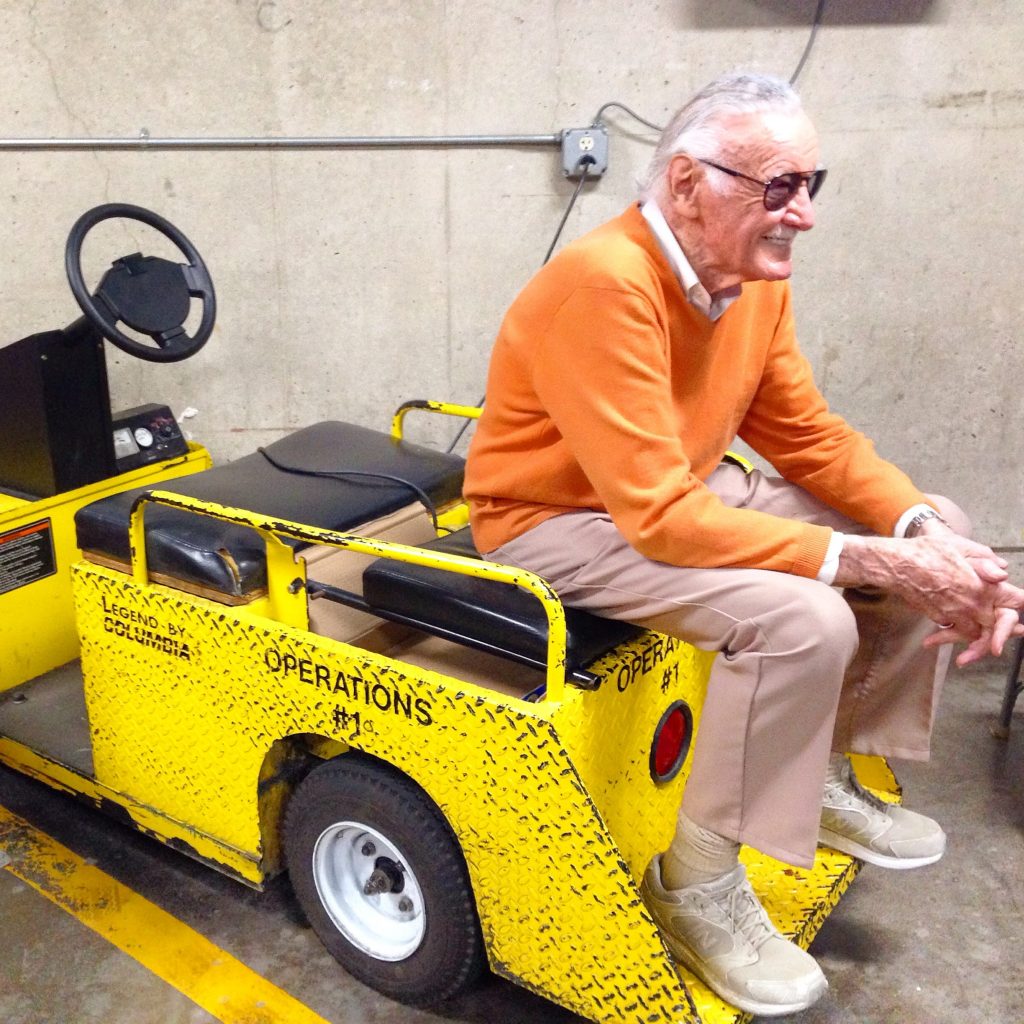 Stan liked to pack his schedule at SDCC, which meant he was continuously busy. But downtime was a must, whether that occurred in a hotel, lobby, green room, or in the back hallways of the convention center on a random cart.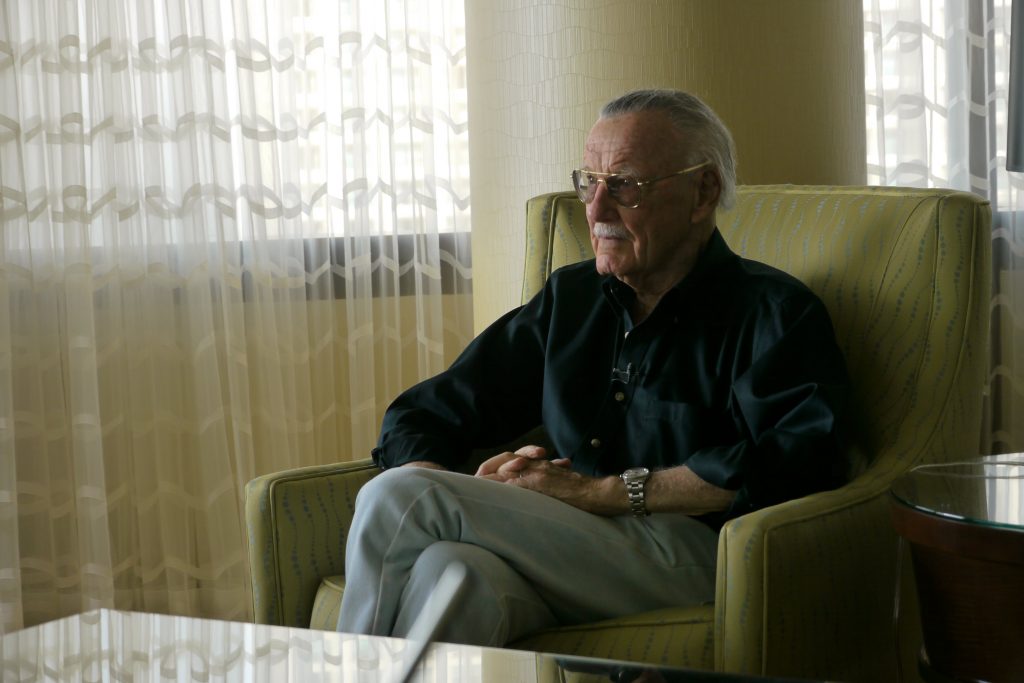 We snapped this photo of a relaxed Stan in the Marriott lobby, a not-so-secret place he liked to hold court in the mornings or evenings.
Thank you for taking a trip down memory lane with us and celebrating Stan at SDCC! For those of you attending San Diego Comic Con this year, stay safe and have a blast!