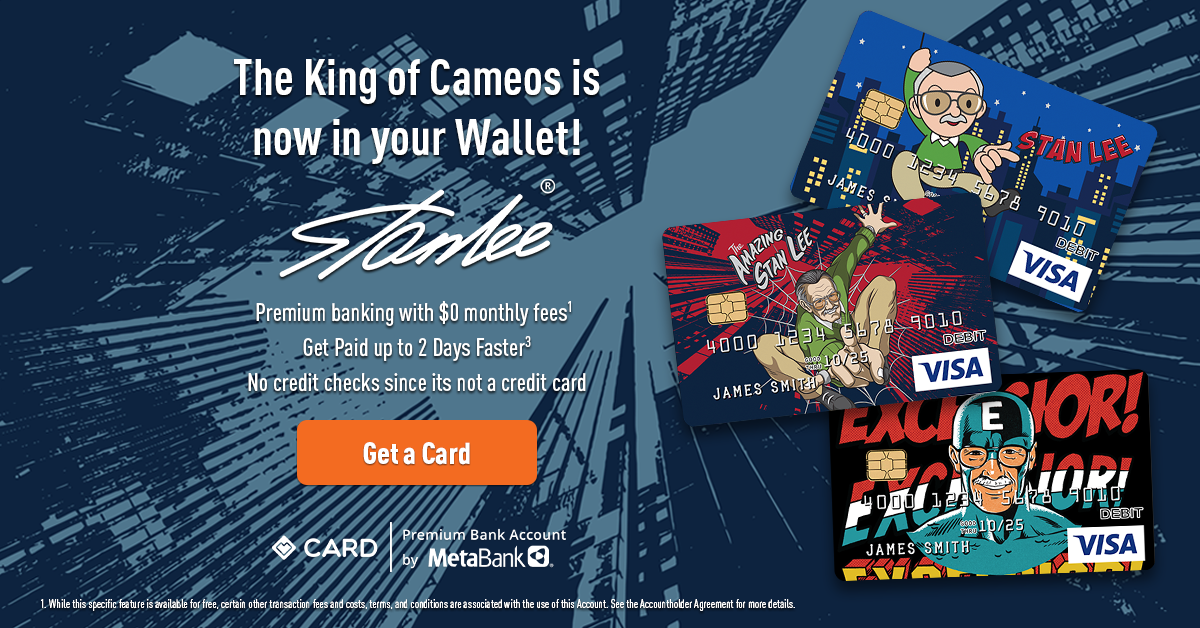 In our ongoing celebration of Stan Lee's centennial year, we asked a freshman design class in the Department of Communications Design at Shih Chien University in Taipei, Taiwan to send us their Stan fan art. The prompt: Imagine if Stan Lee had taken a trip to Taiwan!
The opportunity to share their creations with fans around the globe on Stan's social sites thrilled the students; many said it was an honor. Their teacher, Chien Kao, told us: "They are in the very beginning stage of exploring their styles and improving their skills, and this is the first time they get the chance to communicate to a worldwide audience. You can tell they're passionate and eager to share their favorite part of Taiwan with the fans."
Many of the students knew Stan only from his cameos. So, they immersed themselves in getting to know more about him through the internet, movies, and comics. "Stan Lee is a creator I admire very much," artist Po-Yu Hsiung remarked after the assignment.
Designer Zih-Cing Huang found it interesting that Stan always gave his heroes powers, and in this assignment, they had to imagine him with powers. That was something that proved challenging to some participants: presenting superpowers. Others found it hard drawing Stan and combining their culture with this iconic creator.
Overwhelmingly, though, the students were most excited to show off their country, from the iconic buildings and transit system to the night markets and food. Not only do these works represent the artists' talent, originality, and cleverness, but also the way in which Stan's innovative spirit lives on and continues to influence fans around the world.
We're honored to share the finished products of their hard work here. Scroll down for their pieces of art and some background on each one. Thank you to all the amazing artists who participated!
Night Market, Take Away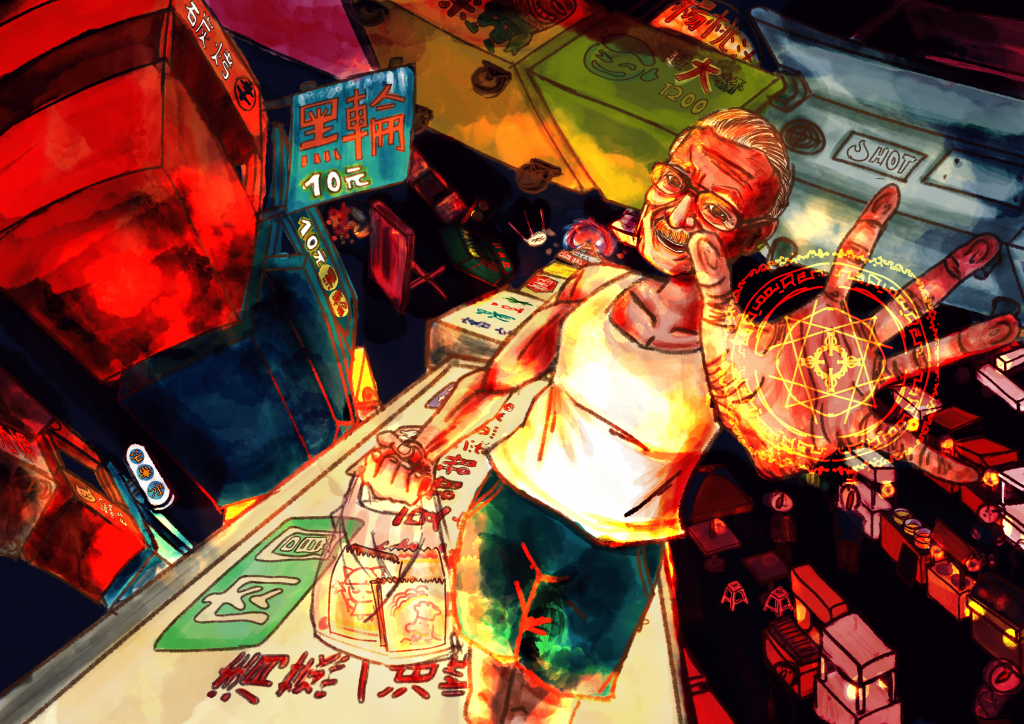 Artist: Chung-Wei Chen
Artist's description: I imagined that Stan Lee loves night market foods, so he wanted to take the whole market away.
Stan Lee in Taipei MRT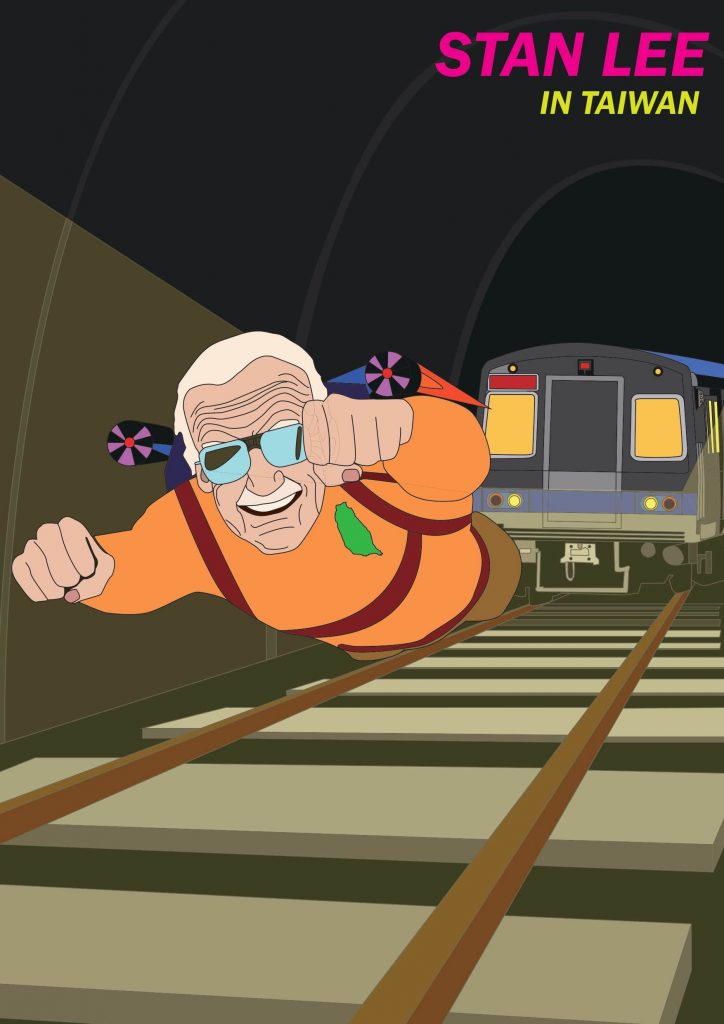 Artist: Po-Lun Hsu
Artist's description: Using the Taipei Mass Rapid Transit (MRT) as a backdrop, I portrayed Stan Lee being chased by a train, but he uses superpowers to throw the train off course.
Stan Lee with Taiwan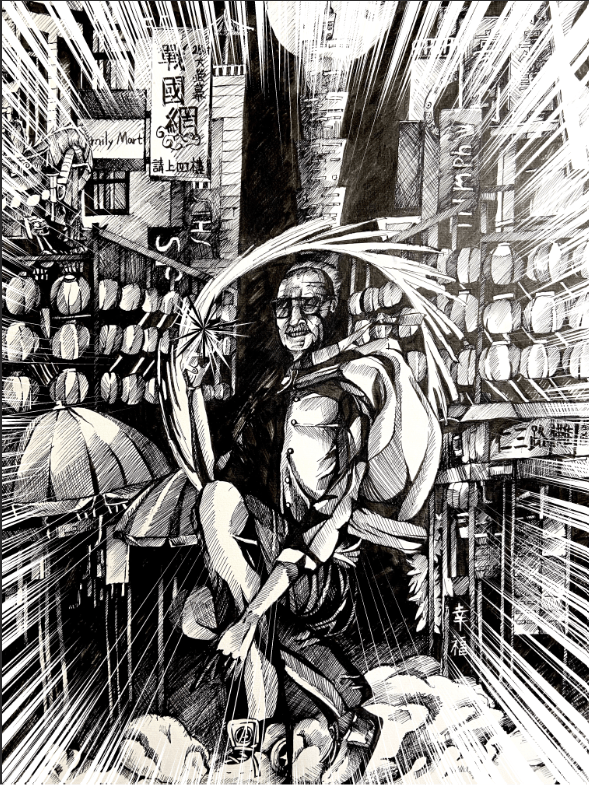 Artist: Yi-Xiang Chou
Artist's description: I combined Taiwan's night market culture with legendary comic master Stan Lee, painting with a ballpoint pen to create a black and white style and highlight the characters in the middle.
The story is set: Stan uses the superpower of teleportation to come to Taiwan and begins his journey in Formosa at the Keelung Night Market.
Voyage to Taiwan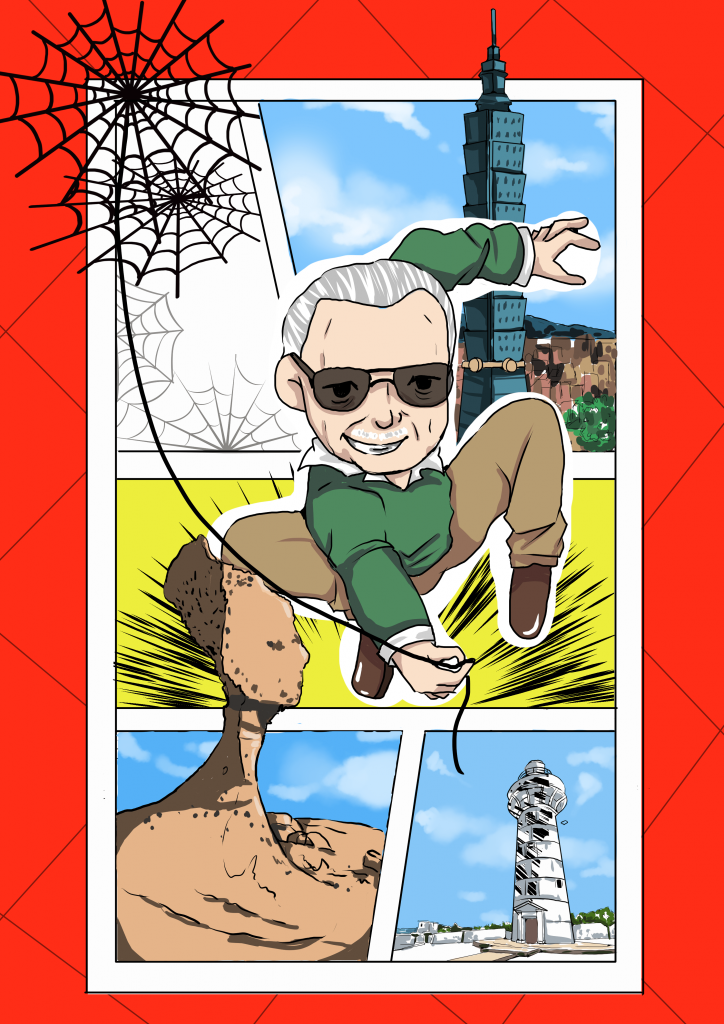 Artist: Chih-Chi Chang
Artist's description: I drew Stan Lee with the power of Spider-Man, which made it feel like he could swing to all the famous scenic spots in Taiwan.
Stan Lee Taipei Night Trip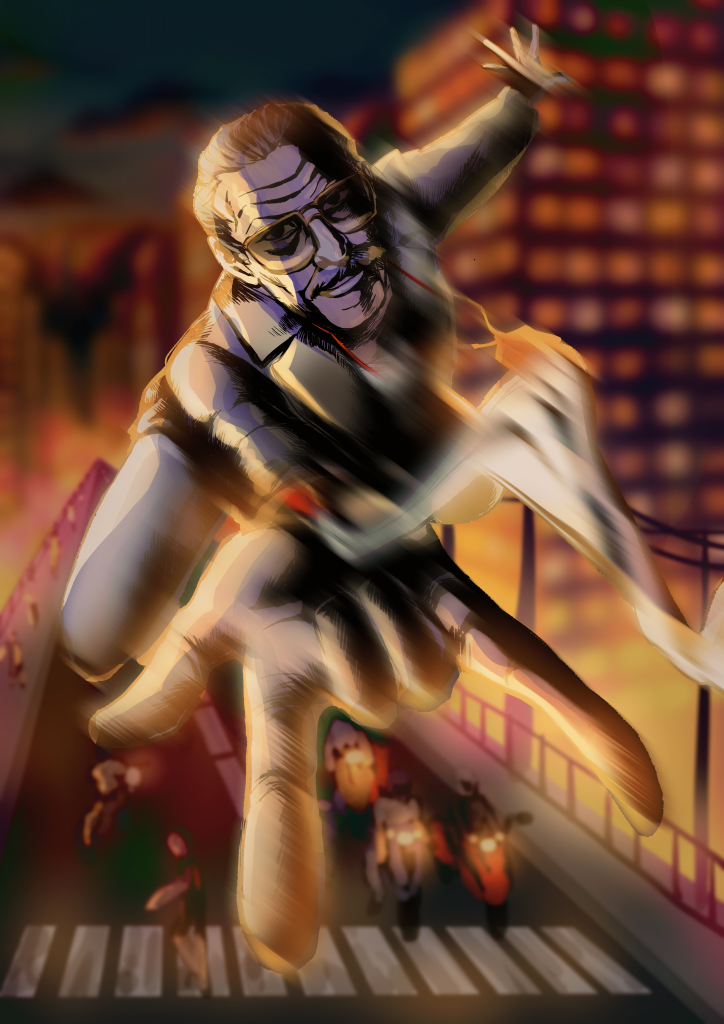 Artist: Xin-Ru Wan
Artist's description: Stan Lee wants to buy a snack during his Taipei night trip, but he suddenly gets caught in rush hour traffic with many motorcycles on the road. Stan decides the fastest way to break through the traffic jam is to use his superpower.
Stan Lee's Food Power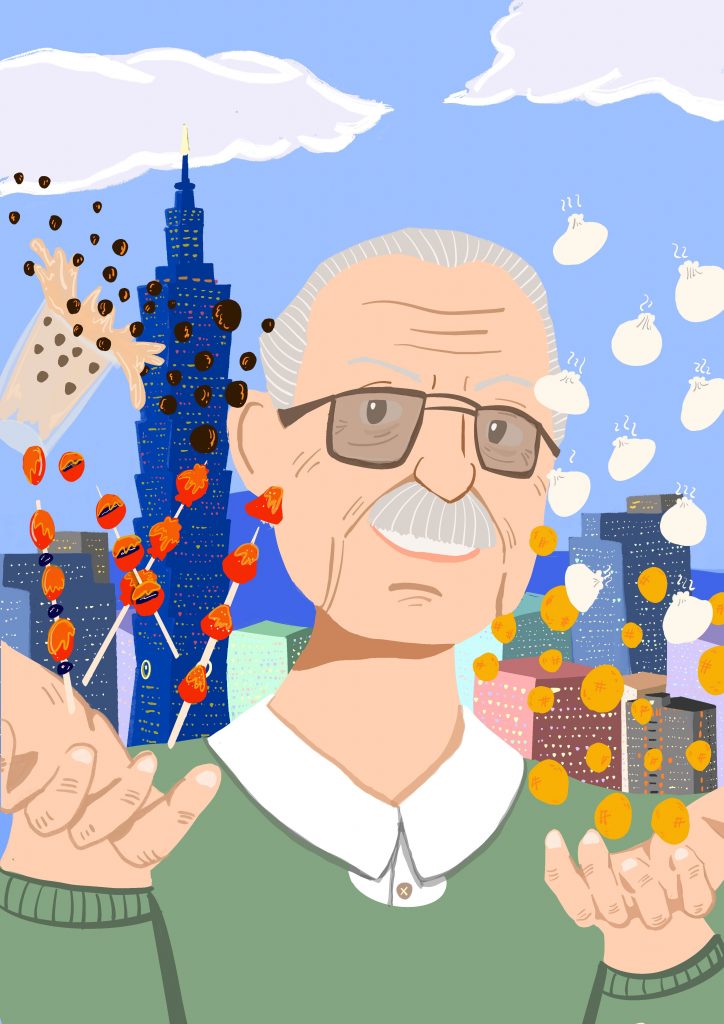 Artist: Zih-Cing Huang
Artist's description: Stan Lee has a superpower that can make Taiwanese food appear from his hands. He can enjoy bubble tea, tanghulu, soup dumplings, and fried sweet potato balls at any time. This superpower has the magic to make people happy, just as Stan Lee's creations do.
Moon Festival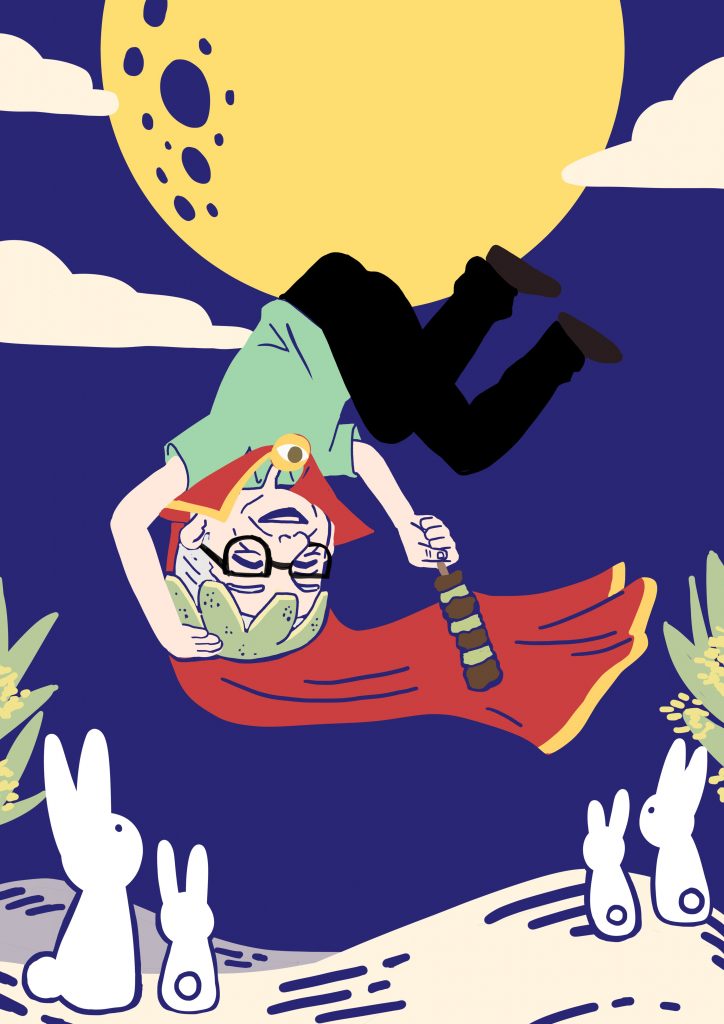 Artist: Ya-Chih Fang
Artist's description: The Moon Festival is a very important festival in Taiwan. On this day, we gather with our families, admire the moon, and feel the festive atmosphere.

The full moon means reunion to us, and the Jade Rabbit comes from an ancient myth that they live on the moon and are associated with the Moon Festival. Because of its round shape, pomelo (a fruit) also represents reunion. On the Moon Festival, some people wear pomelo skin on their heads, looking playful and cute. The barbecue on the right was not originally a tradition during the Moon Festival. It became popular because of an advertisement for barbecue sauce, which helped make it an added tradition to the festivities.
Hey! Scooter Riders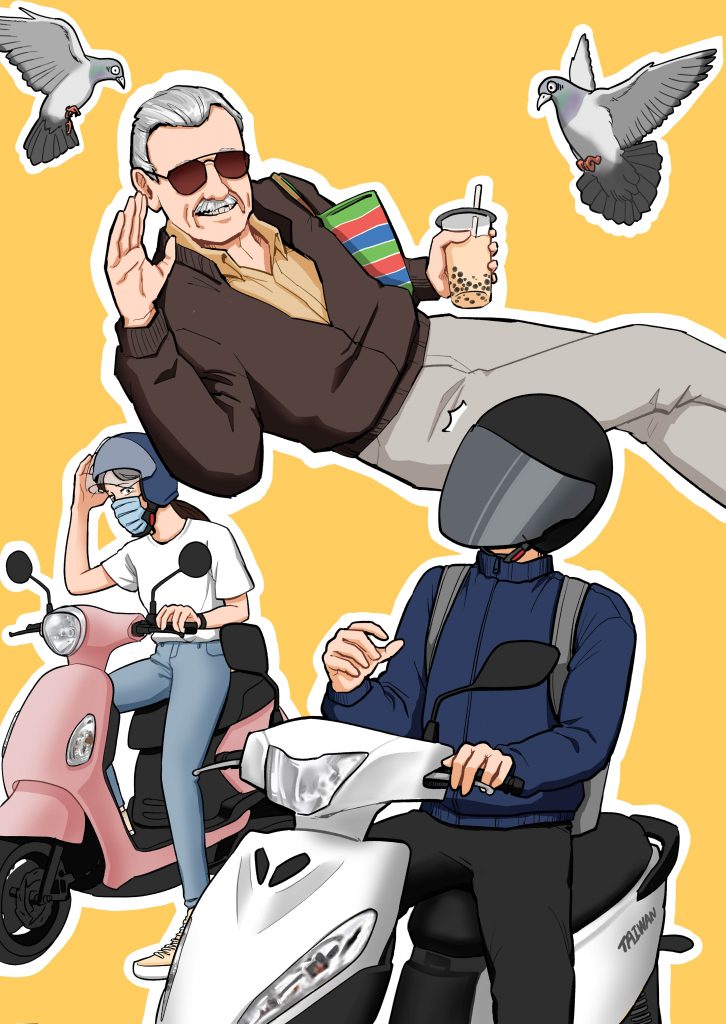 Artist: Pei-Jhen Wang
Artist's description: Mr. Stan Lee travels all over Taiwan carrying a fashionable shopping bag and drinking the most popular boba tea. He tours Taiwan by flying, which allows him to meet many warm-hearted people and experience the various cultures of this beautiful land.

Nevertheless, Mr. Stan Lee seems to have caught the attention of a few people while flying, hasn't he?
Highest Place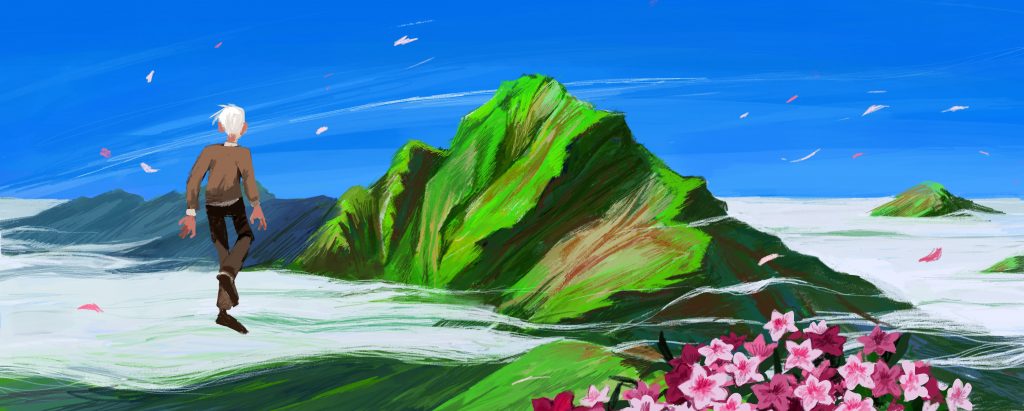 Artist: Clay Chen
Artist's description: How's the weather up there, above the clouds?

Yushan, also known as Jade Mountain, is the tallest and most iconic mountain in Taiwan. It's quite risky to climb up there; it would be easier if you can fly!
Stan Lee in Ximending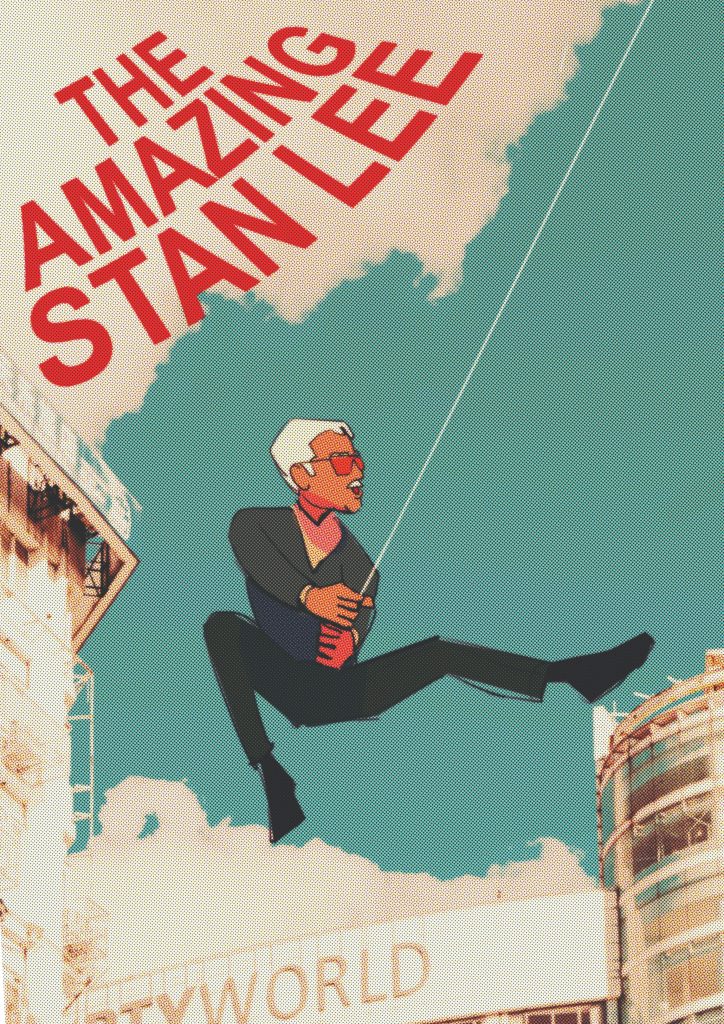 Artist: Alexis Fung
Artist's description: Ximending is a shopping center in Taipei City. It is popular with young people, and you can find movie theatres, toy stores, and comic book stores there. There's a rich comics culture in Ximending; therefore, I think Stan Lee would like this place.
Super Runner Stan Lee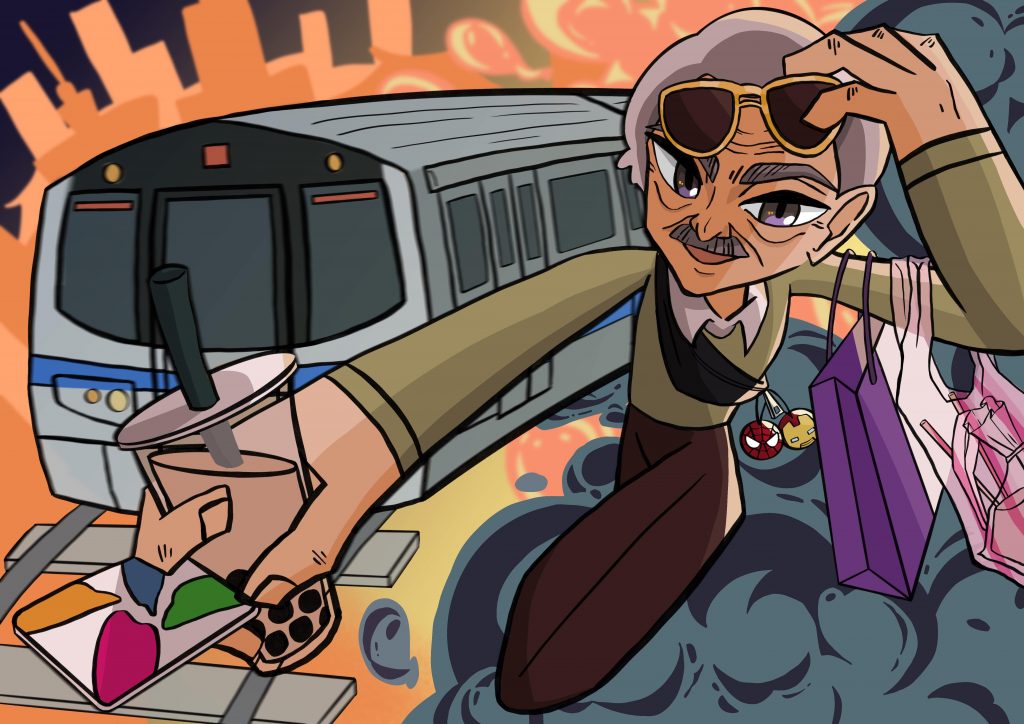 Artist: Shih-Han Kao
Artist's description: Stan Lee uses his superpower to run super fast to visit Taiwan. Running faster than the MRT, he can travel around on his own two feet. Night markets, department stores, places of interest – there's no place he can't go!
I used an American cartoon style for this piece. The line is thick and apparent, giving a strong, lively impression, and the chromatic contrast is intense and more apparent in the expression of light and shadow. At the same time, I also mixed in some Japanese manga style. In Stan Lee's comics, the characters are drawn more realistically, but I changed the proportions to make Stan more lively and interesting. I also wanted to convey the sense of high speed movement with the blurring of the background.
Stan Lee in Taiwan Barber Shop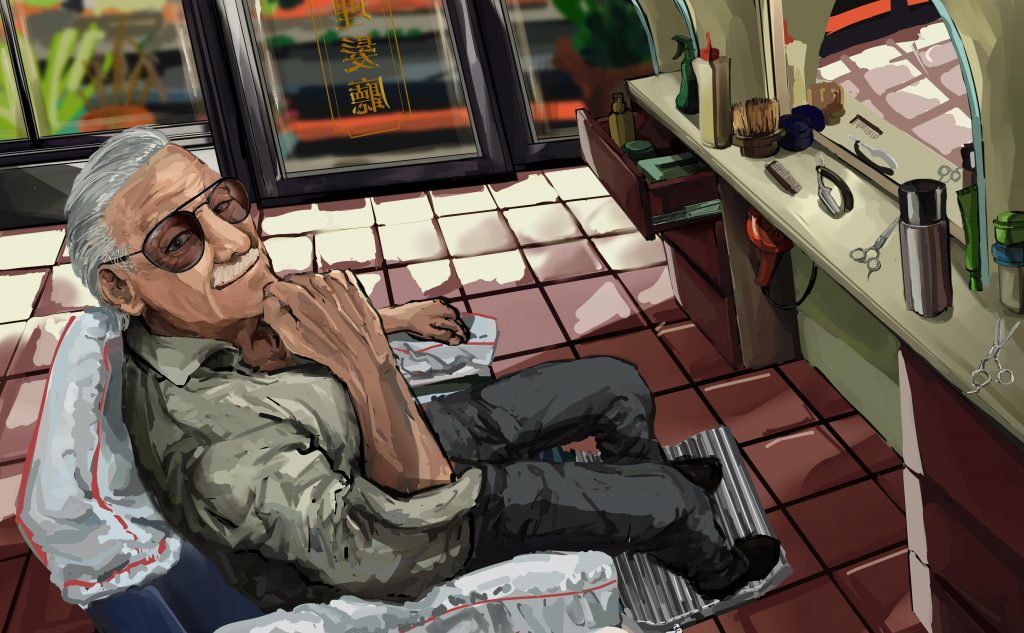 Artist: Han Lo
Artist's description: In my opinion, the most unique feature of Taiwan is the variety of businesses in the dense neighborhoods and alleys, which create their own communities in Taiwan. Among these stores, the traditional barbershop is a memory that has been with the Taiwanese since we were children.
Nowadays, the quality of life has improved and people go to salons, but the atmosphere of the traditional barbershop still remains in the hearts of Taiwanese people. I thought Stan Lee, who keeps his facial hair clean, would like this kind of place, so I drew him sitting leisurely in the barber chair on a summer afternoon. The potted plants on the street are also one of the characteristics of Taiwan.
In the Night Market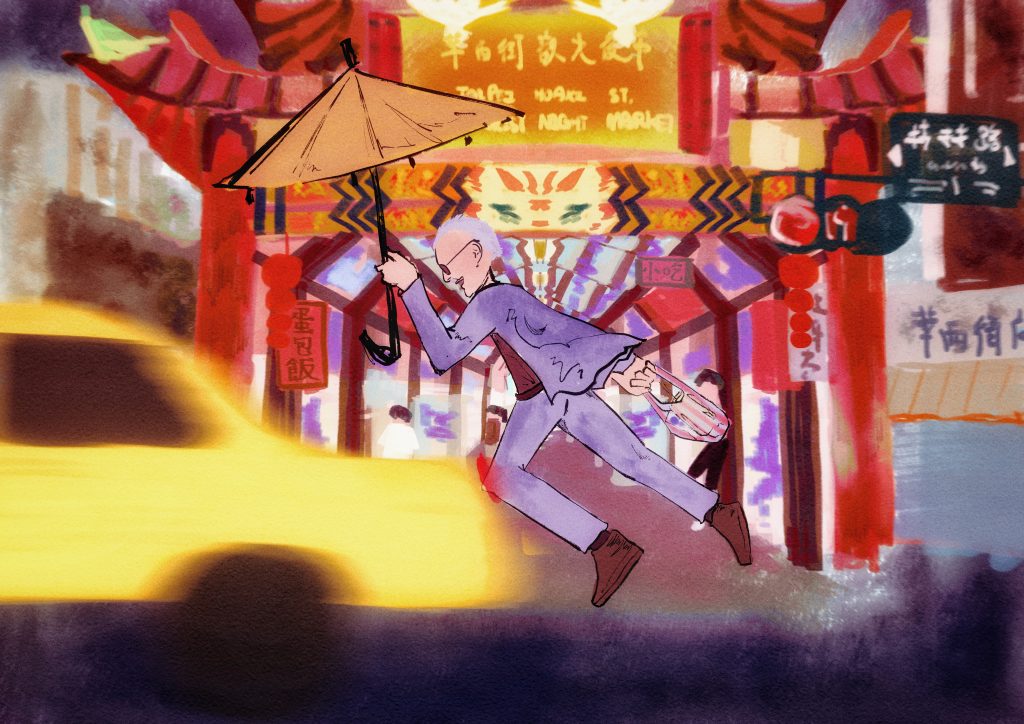 Artist: Chia-Cheng Li
Artist's Description: Stan Lee is in Huaxi Street Night Market, a place where he can enjoy countless amounts of Taiwan food. With fried chicken and bubble tea, Stan Lee will have a joyful night!
It's Convenient!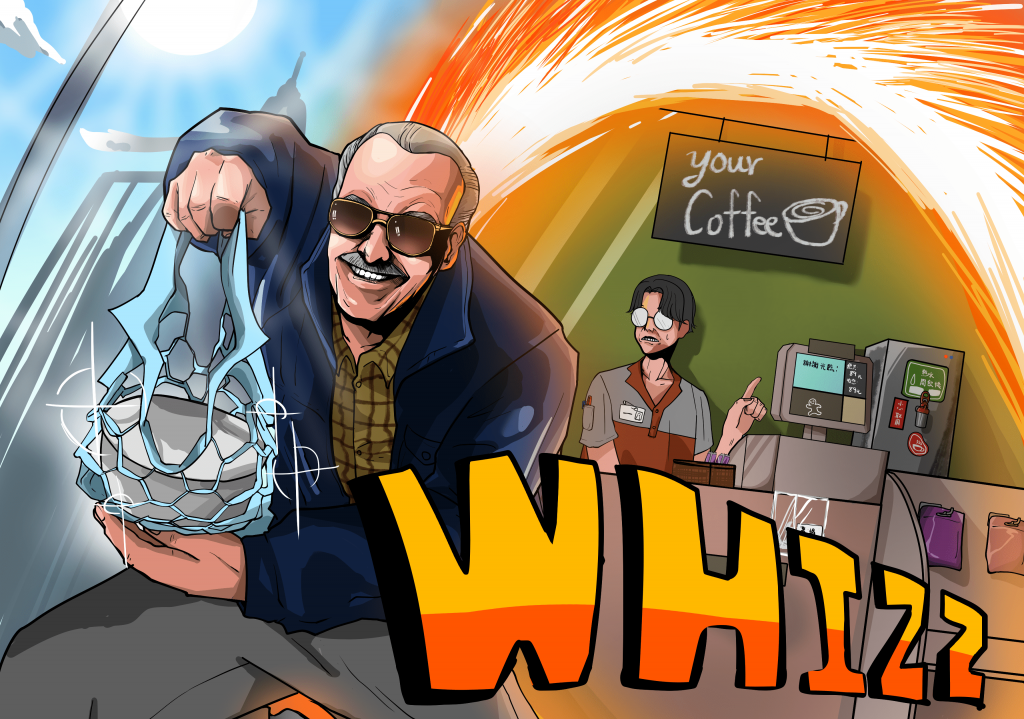 Artist: Shih-Min Chang
Artist's Description: Stan Lee used a non-woven bag for the first time at a Taiwanese convenience store and was amazed by this special item. (Editorial note: Non-woven bags are a special type of recyclable bag used to transport hot food, especially food with soup, and keep it safely balanced when carried. They look like regular paper when flattened.)
The Postman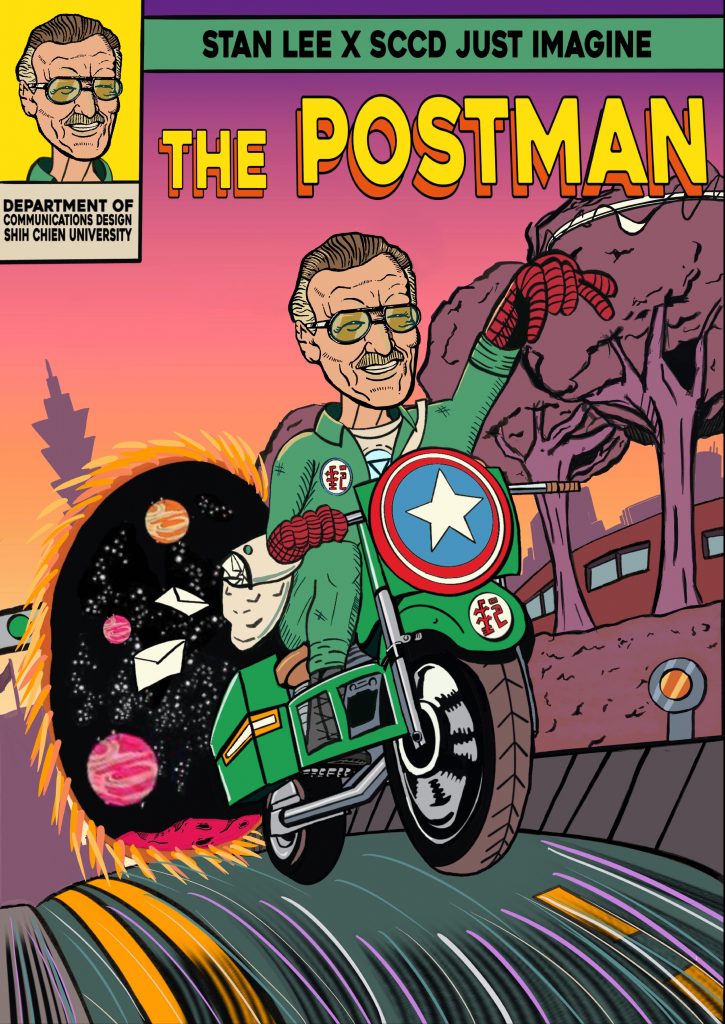 Artist: Kenny Li
Artist's description: Stan Lee got lost in the multiverse: He traveled from the 616 universe and accidentally arrived at the 086 universe. In the 086, Lee's family came to Taiwan because of the First World War. He had an ordinary life in Taiwan and is devoted to his job as a postman.
However, when 616 Lee was accidentally sent to the 086 universe, 086 Lee was sent to the 616 universe. To help the post company, 616 Lee has to assist 086 Lee with delivering the mail and packages, but while doing so, 616 Lee can't control his "creative superpower" and gets into a little trouble…
Stan Lee in the Mirror Dimension at Taipei 101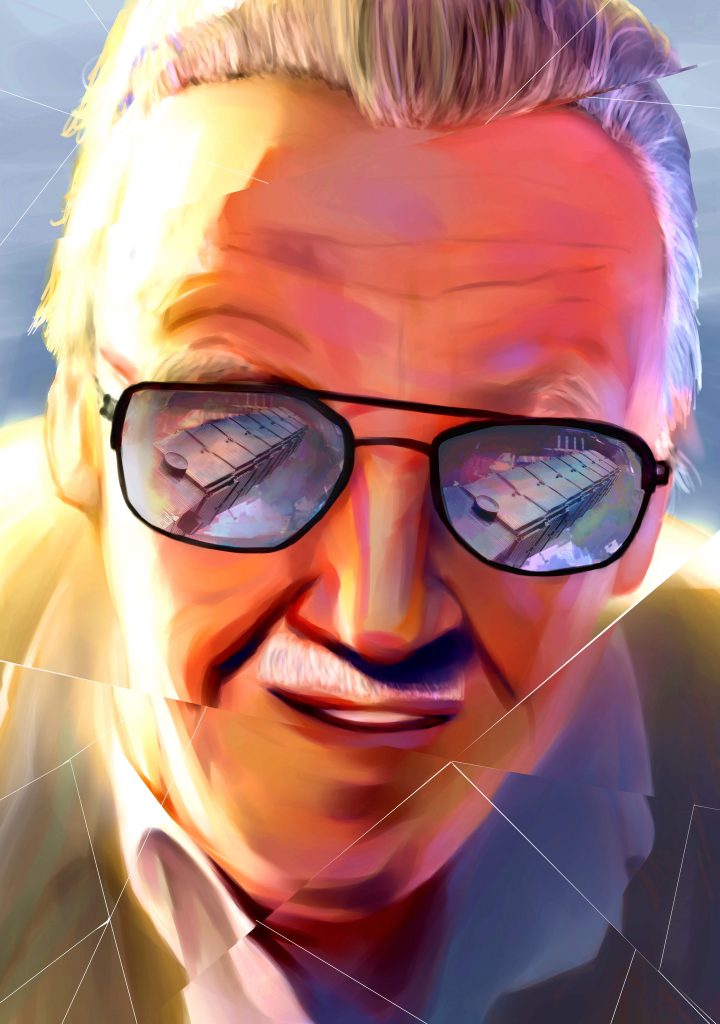 Artist: Po-Yu Hsiung
Artist's description: See the scene of Taipei in the mirror dimension through the reflection of Stan Lee's sunglasses.
Taipei Savior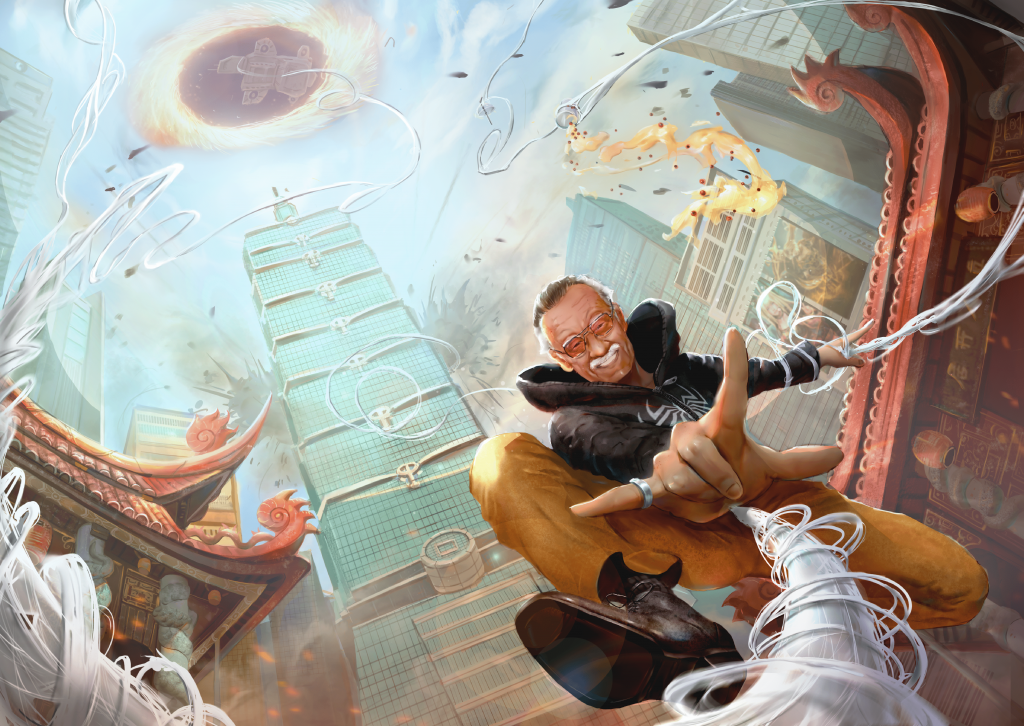 Artist: Guo-Shiuan Ling
Artist's description: In 20XX AD Taiwan, in another parallel universe, an unknown event occurred severely damaging Greater Taipei.  Stan Lee, who loves to travel around, arrives in Taipei through Doctor Strange's portal and uses Spider-Man's abilities to maintain harmony and safety in the city.
Night Market Swing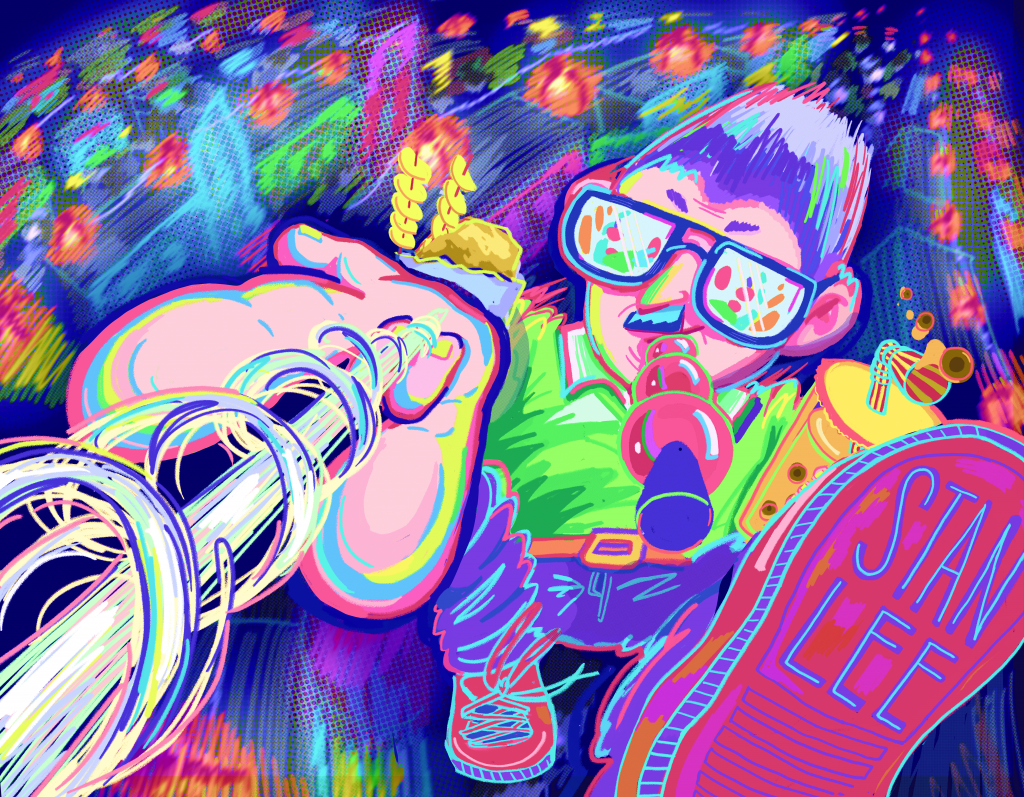 Artist: Ting-Yu Chan
Artist's description: Stan Lee uses his superpower to swing around the night market, enjoying Taiwanese food and the wonderful view of this beautiful night city.
Stan Lee to Visit Taiwan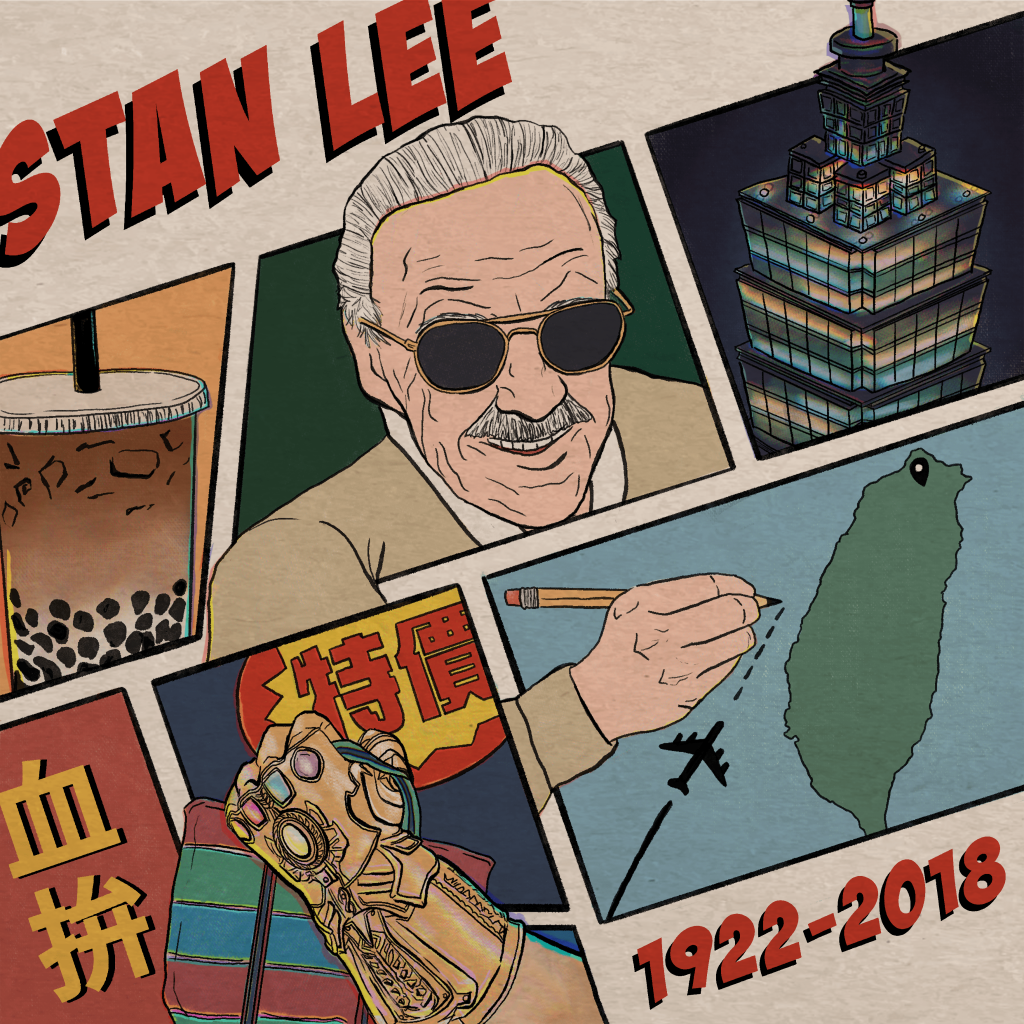 Artist: Yai-Chun Chen
Artist's description: I used comics to simply present the story of Stan Lee's trip to Taiwan. Stan Lee tasted Taiwan's most famous bubble tea, visited a discount market with an iconic Taiwanese shopping bag, and went to see Taiwan's landmark 101 building!
Burn the First Incense
Artist: Bo-Hao Chang
Artist's Description: Stan Lee traveled through time and space to Taiwan during the Chinese New Year Eve. Around midnight, he noticed that people were swarming towards the temple.
After inquiring, he found out that they were holding an event called "burn the first incense," a folk culture ceremony to receive a blessing from the gods. Stan Lee found it interesting; can he participate?
Stan Lee Loves Bubble Tea!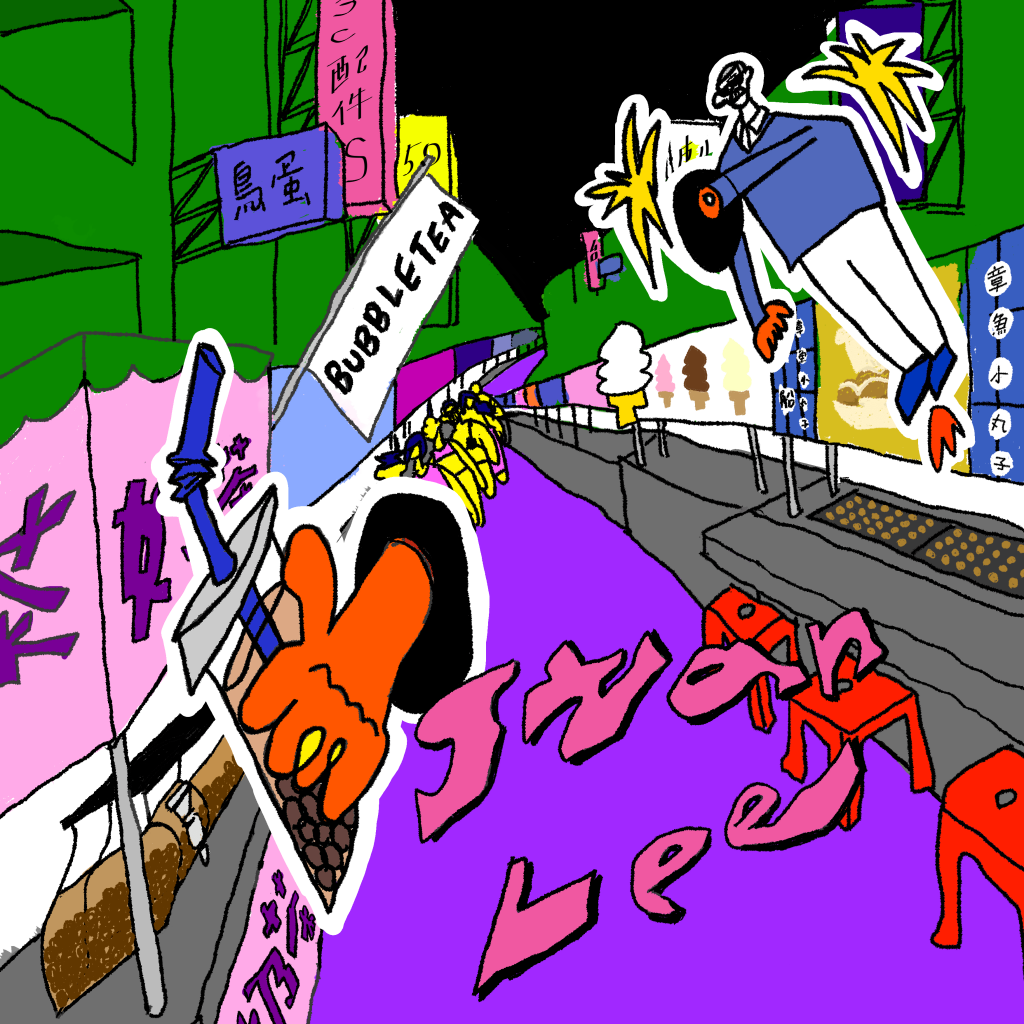 Artist: Yi-Cheng Ke
Artist's description: The first place Stan Lee wanted to go when he came to Taiwan was the night market, where there are all kinds of delicious snacks. In the market, there was a long queue and big crowd of people in front of a street vendor, which caught Stan Lee's attention. It turned out to be the bubble tea that is so popular here! But in order not to get stuck in a long queue on a hot summer day, Stan Lee uses his super powers to get the bubble tea!
The Spectacular View of Taipei City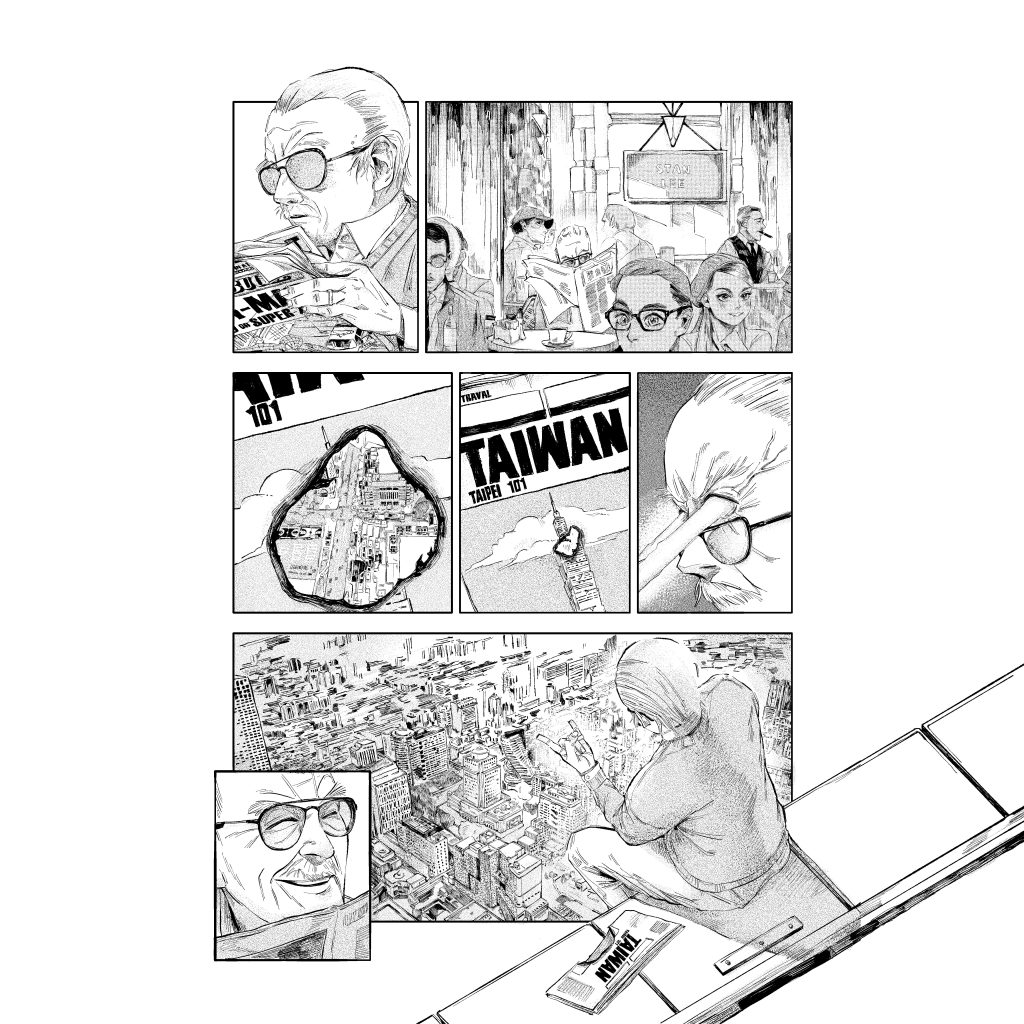 Artist: Pei-Ying Hsieh
Artist's description: While sitting in a café shop reading the newspaper, Mr. Stan Lee came across an article about Taipei 101. In the spur of the moment, he felt an urge to visit and sit on top of Taipei 101. So, he burned a hole in his newspaper using his superpowers, teleported himself to Taipei 101, and marveled at the spectacular view of Taipei City.
Stan Lee with Different Superpowers Travels to Taiwan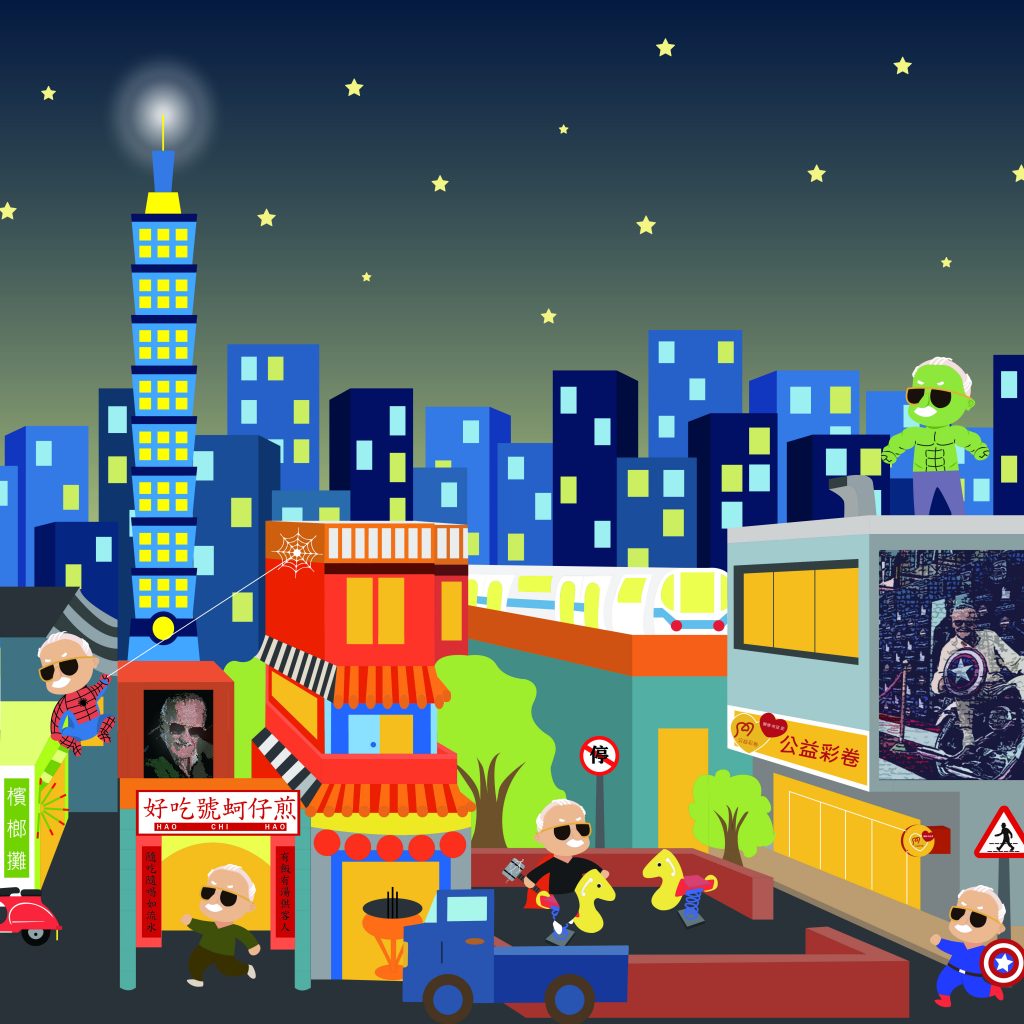 Artist: Alice Kao
Artist's description: Many versions of Stan Lee, each with different superpowers, shuttle through the streets of Taiwan. There are traditional Taiwanese food restaurants, lottery retailers, betel nut stands, temples, parks, MRT stations, and many more places to visit. There are also blue trucks and motorcycles, both common sights in Taiwan. In the background, there is the landmark Taipei 101 building.