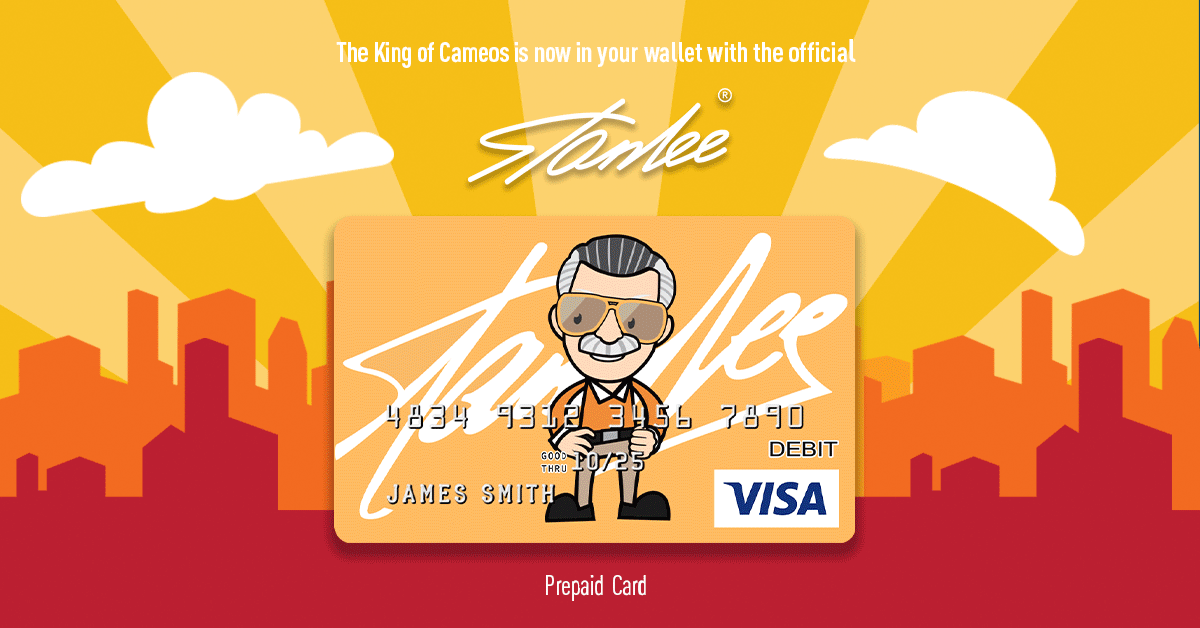 Stan's office was a sight to behold. Everywhere you looked, you'd spot something – a photo, a figure, a painting, a pinball machine – that held a story or caught your attention.
That's just one of the reasons we love this luminous limited edition fine-art print of Stan at work by artist Freya Betts, which is only on sale at Moor-Art Gallery until December 20, 2020. To check out the collectible print and the entire Stan Lee Collection, click HERE!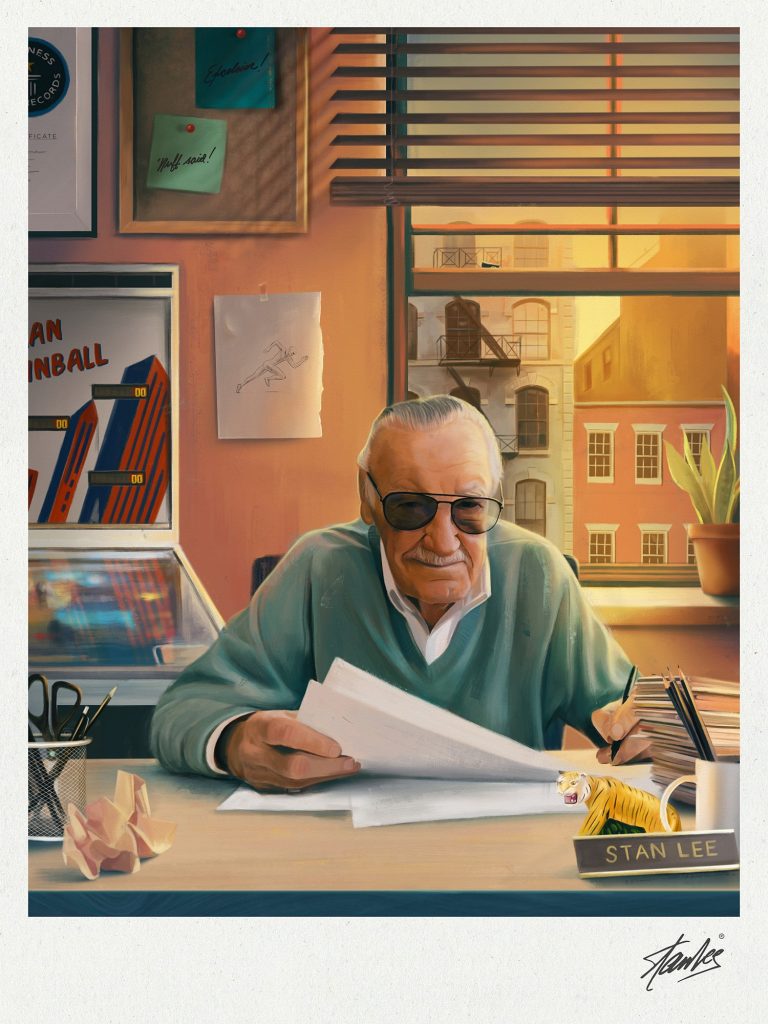 As you can see, there is a lot of detail in this portrait! Freya spoke to Moor-Art Gallery Art Director James Hobson and Gallery Director Keir Young about her process, remarking that "people often ask me where do I find the patience to illustrate so much detail, but when I love the subject matter, my patience is endless. When I was working on it, I would wake up in the morning, and I would be excited to work on it. I thoroughly loved painting every part of it."
Speaking of the different parts of this print, the portrait features several Easter eggs from Stan's real office. What are they? Let's take a look!
The Tiger
It may look inconsequential, but that yellow striped tiger figure by Stan's nameplate was such a well-known part of Stan's office design that it even made its own cameo appearances! That's right. Here it is in Stan's office, alongside The Man, naturally, in a 1998 episode of Spider-Man: The Animated Series.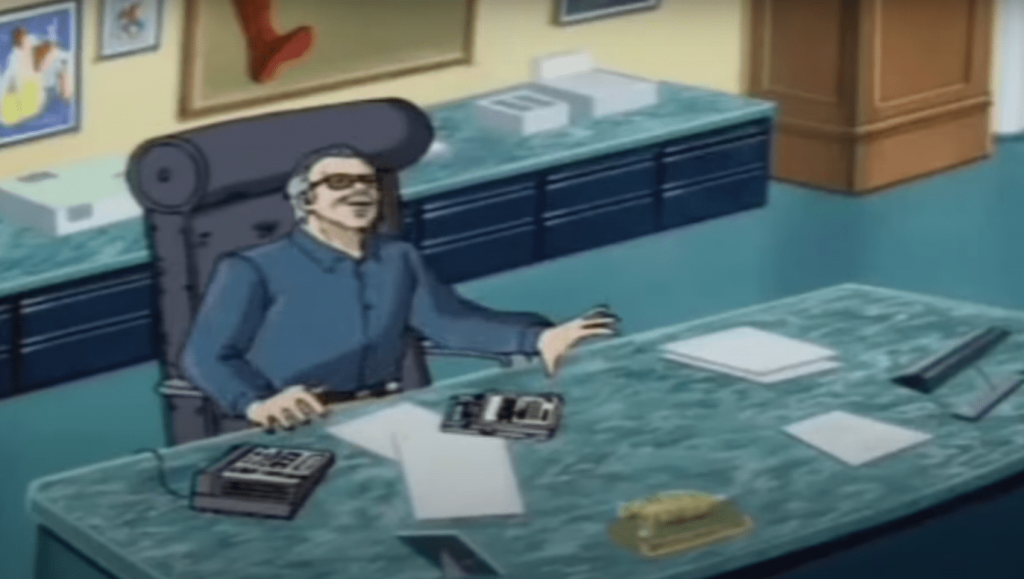 We aren't quite sure what the origins are or what exact meaning it had to Stan. However, we do know that Stan kept this tiger on his desk in many offices and throughout many moves over the years, stretching all the way back to the 1960s. So, it must have meant something very special to him!
Spider-Man Pinball Machine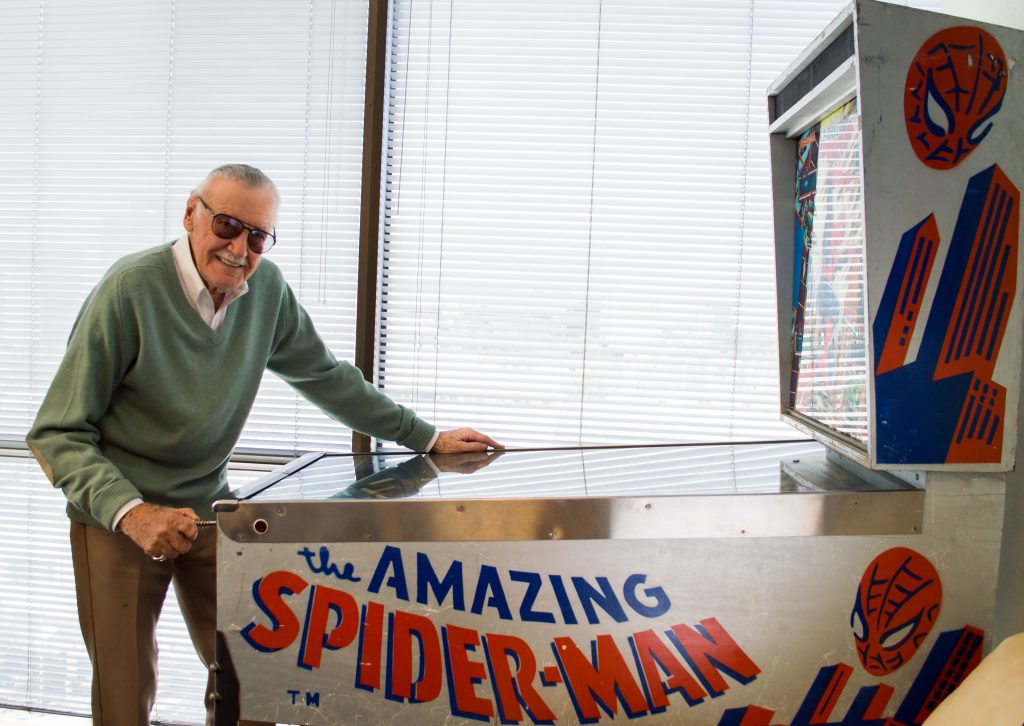 Do you see the game over Stan's right shoulder in the portrait? That's meant to be a Spider-Man pinball machine, which is another item that stayed with Stan for many years. Manufactured by D. Gottlieb & Co. in 1980, the game features classic Spidey art and characters from the late 1960s. This mammoth machine traveled with Stan to a whooping seven offices over almost 40 years! That's a lot of movement for such a huge contraption.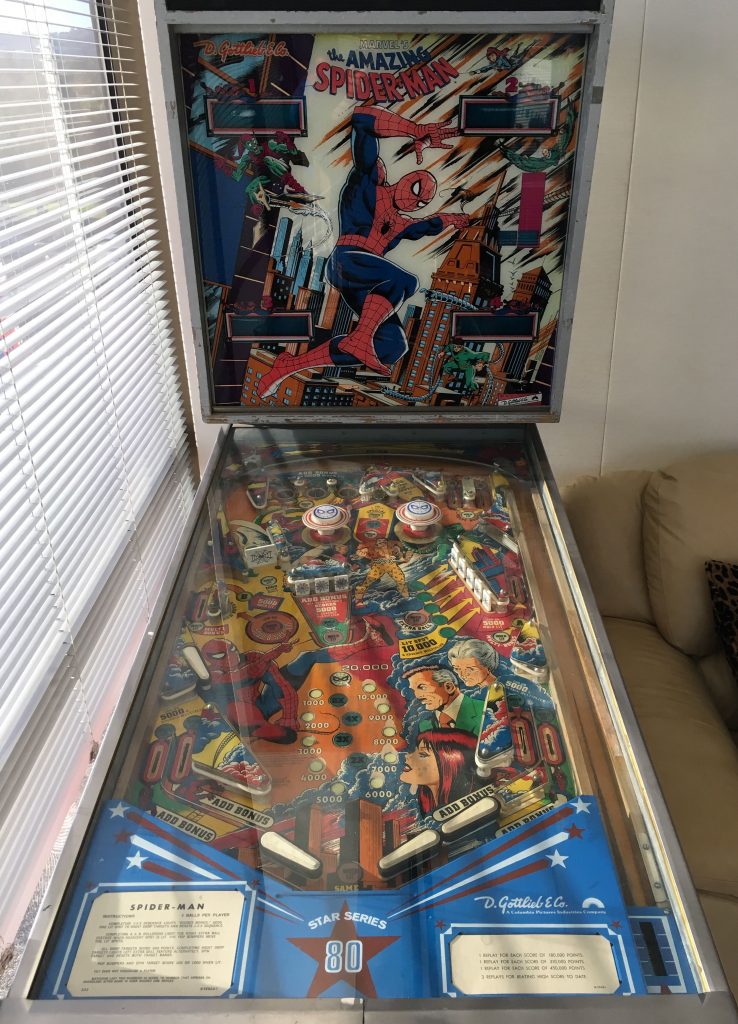 Parts had to be replaced from time to time like any arcade game, but more recently the machine's shredding AC power cord sadly put an end to actual pinball games. Nonetheless, Stan still prized the antique, and guests who visited his office loved it as well. Though he couldn't play it, Stan often posed next to the game for photos and videos. It also turned out to be a great surface to sign big posters on! Who knew one could get so much use out of a pinball machine?!
Guinness World Record(s)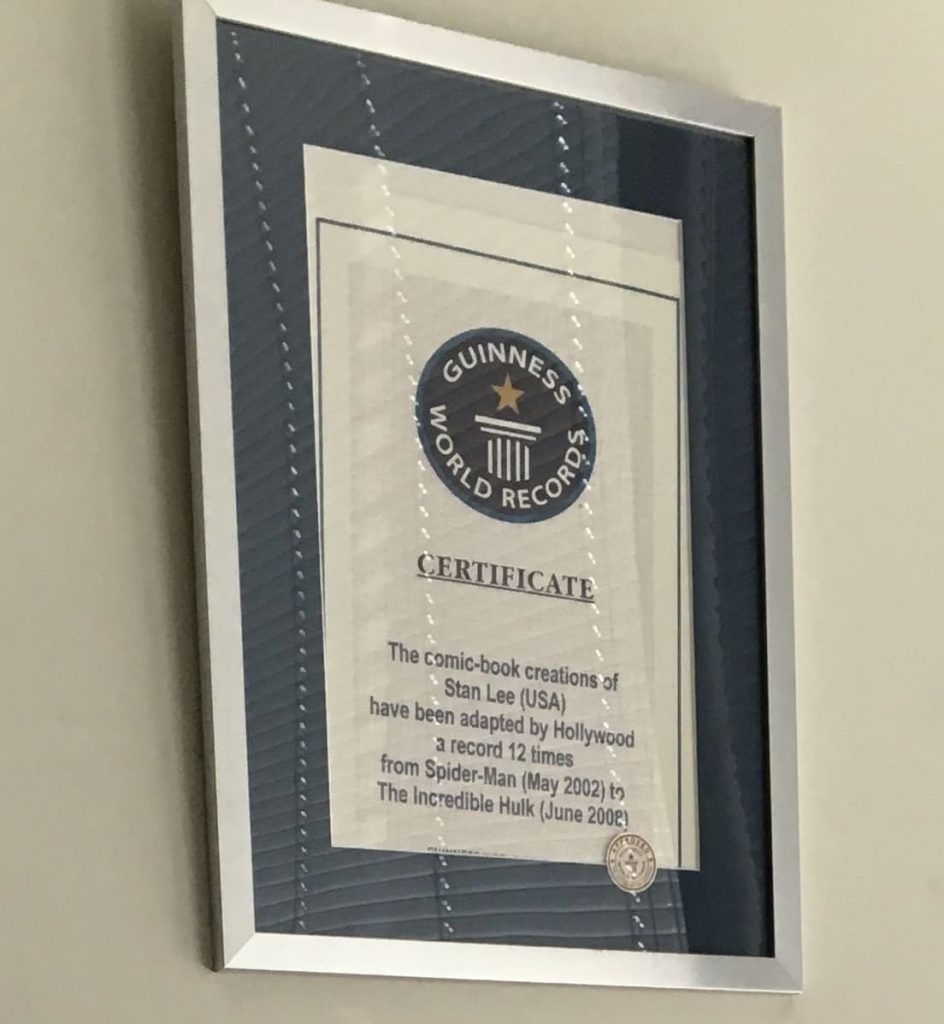 Can you spot the Guinness World Record certificate peeking in the frame in the upper left hand corner? Yes, that's a Guinness World Record! But Stan didn't hold just one world record – he had many! He received one as the Highest-grossing executive producer – his credit on the MCU movies helped propel that figure to over $26 billion at the box office – and another was for Most prolific creator (or co-creator) of comic book characters. Not to mention, he also held titles for Largest graphic novel published (that would be for Romeo and Juliet: The War) and Most movies adapted from the work of a comic book creator. This last one was the document hanging up in his office, which you can see above. Being the icon that he was, Stan even topped himself in that category! When Guinness bestowed this certificate in 2008, Stan's co-creations had made it to the big screen 12 times. Ah, how long ago that seems. Now, it's more than triple that number, and it's just going to keep growing!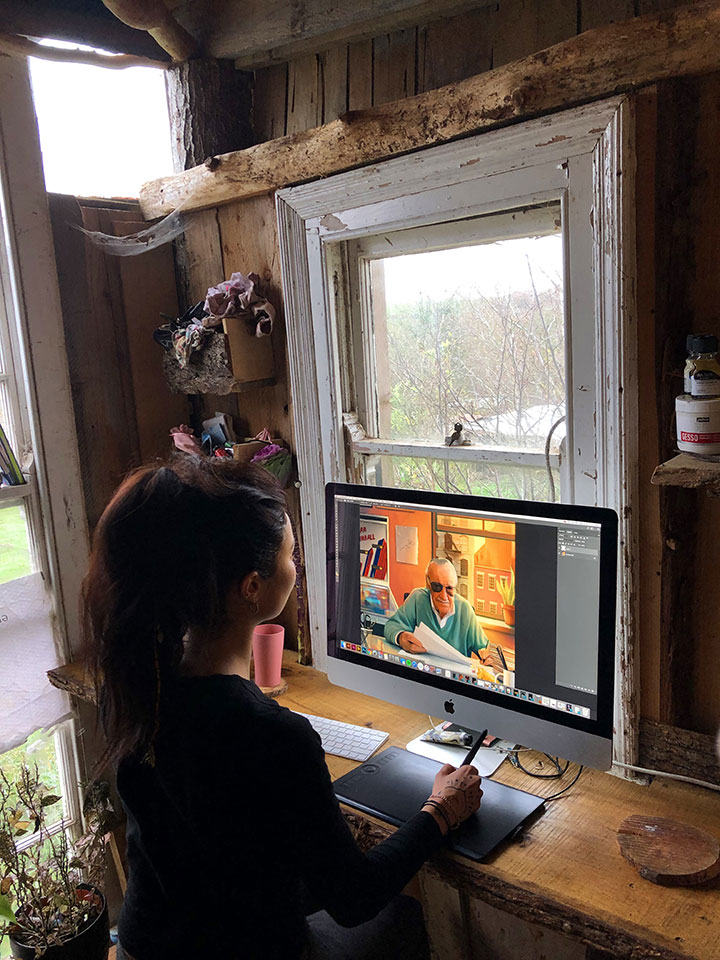 Freya remarked that this project was "massively inspiring and a fantastic opportunity" that "reminded me why I do what I do." We can certainly see her hard work and passion come through in the finished print!
Do you love the Stan Lee office portrait as much as we do? Remember, it's only available until December 20, 2020 and then it will never be on sale again! Check out Moor-Art Gallery's whole Stan Lee Collection HERE, which includes Freya's portrait of Stan at work plus these three phenomenal pieces!