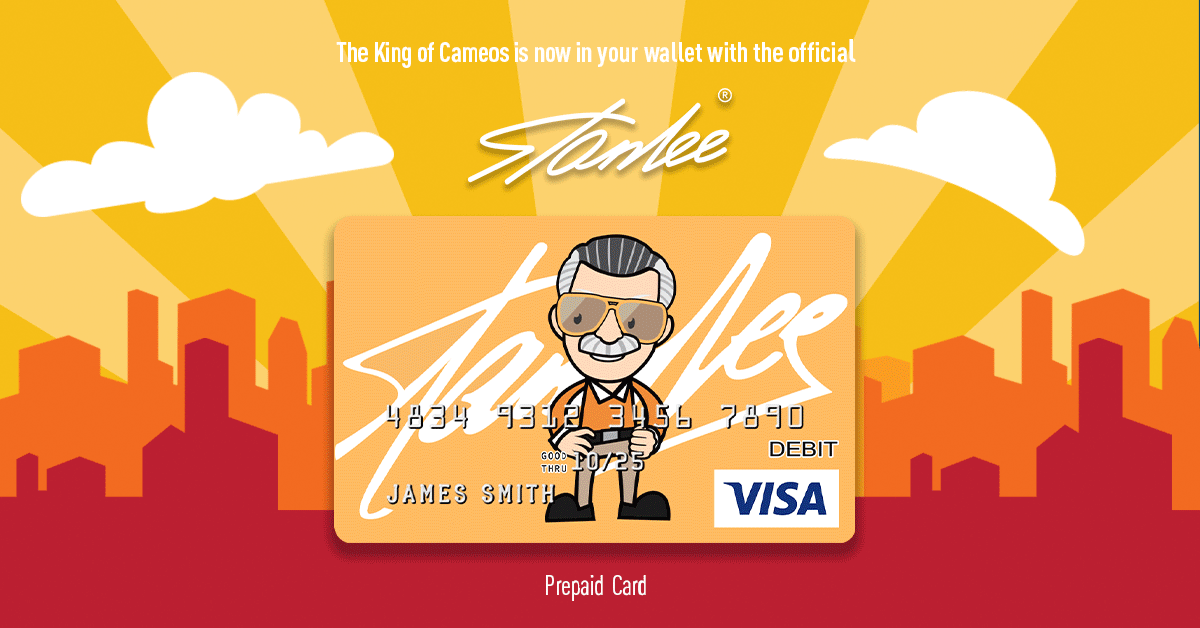 Disney has been hard at work over the last decade or so adding new and exciting lands to their theme parks based on huge Hollywood franchises. First there was Cars Land. Then there was Pandora: The World of Avatar. Next came Star Wars: Galaxy Edge. Now we have Marvel's Avengers Campus. The designated section of Disney's California Adventure Park in Anaheim, CA has been under construction for many months now, hidden behind barriers labeled Stark Industries. But worry not, Brave Brigadiers, because at Disney's recent annual shareholders' meeting an opening date was finally announced for the Marvel-themed land!
Get ready Marvel Zombies, because The Avengers, Spider-Man, Doctor Strange, and even Taskmaster are set to arrive at Disney's California Adventure park this summer on July 18, 2020. A press preview was held following the announcement at the Disney shareholders' meeting. The Los Angeles Times and Polygon were on hand for the event and have been reporting on the tantalizing details, one being that Spider-Man's Worldwide Engineering Brigade will be the first ride attraction open in the new land.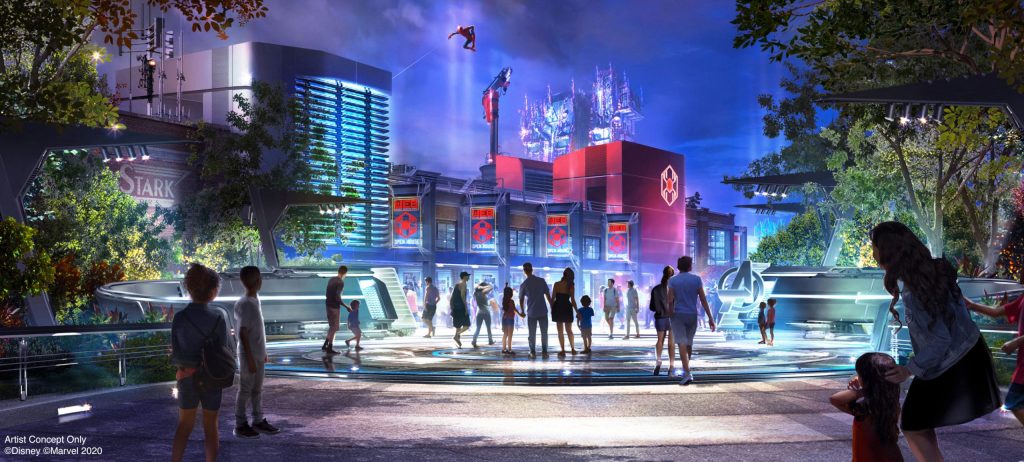 Guardians of the Galaxy: Mission Breakout has been a part of California Adventure for quite a while now, but it's about to get some arachnid-like company. Spider-Man's WEB attraction is set to be the only new ride to debut with the opening of Avengers Campus, much like how Smuggler's Run was the only ride active for the Star Wars: Galaxy's Edge start date. The ride is described as being inspired by Toy Story Midway Mania and is a mix of simulated video game-style webslinging and a classic dark ride. The attraction will also feature a build-your-own Spider-Bot factory similar to the Galaxy's Edge droid factory.
In addition to Spidey's webslinging ride there will also be Doctor Strange's Sanctum. The mystically themed area will be host to live magic shows performed by the Sorcerer Supreme himself! Then when night falls upon the sanctum, the trees along the pathways will begin to glow from Strange's enchantments creating a beautiful nighttime atmosphere for Avengers Campus.
Now if it's food you crave, bizarrely sized food in particular, then the Ant-Man themed restaurant, Pym's Test Kitchen, is the place to be! Hope Van Dyne and her dad Hank Pym have opened a joint to test his patented Pym Particles on food and drinks! So, if a massive fried chicken sandwich on an itty-bitty bun sounds like fun to you, pull up a chair and any size appetite you can muster. Meanwhile, let Scott Lang hit you with enormously sized beer to wash down that gargantuan chicken sandwich.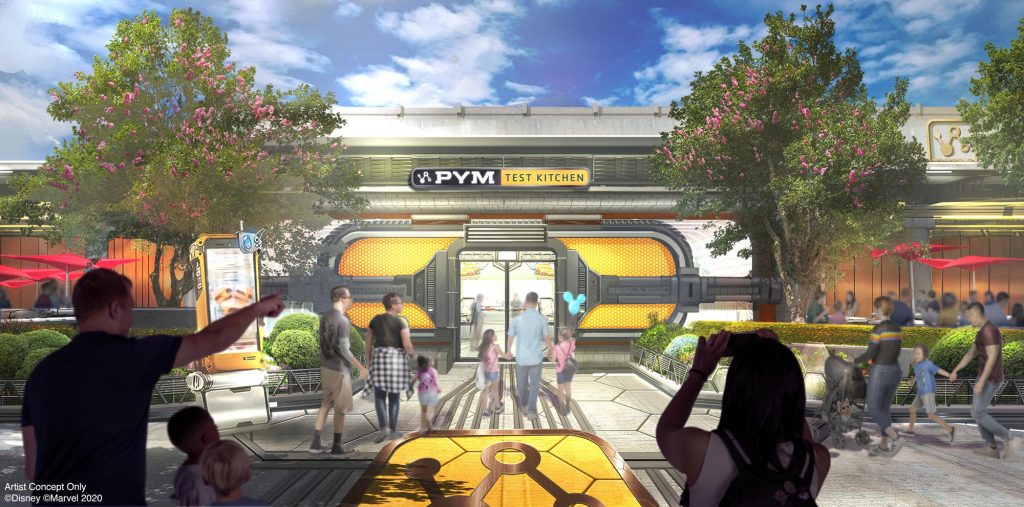 Not to be outdone by Doctor Strange's magic show, there will also be two other live-action performances occurring intermittently throughout the day on the campus. One such event will be Taskmaster's stunt show where the villain with photographic reflexes will be battling it out with the Avengers for park-goers to take a gander at. The second more hands-on show will be the Dora Milaje Training where guests will be taught how to protect the Black Panther by the woman warriors of Wakanda's elite all-female guard. Sounds like dangerous but fun work!
Finally, and most obviously, Avenger's Campus will feature a plethora of Marvel characters in costume for fans of all ages to meet, greet, and take fun photos with. Here's hoping that in addition to seeing our favorite superheroes and villains from the movies, Disney trots out some characters from their huge library of Marvel comicbooks.
Well, there you have it, True Believers, that's what Disney's California Adventure will look like come July. A mighty Marvel masterpiece of theme park innovation! There's no word yet on when the big Avengers themed ride will open to join WEB and Mission Breakout. If Rise of the Resistance's opening timetable is any indication, it will only be a few short months after the land kicks-off that we'll get to experience the e-ticket extravaganza. Until then, face front and get ready to assemble at Avengers Campus!