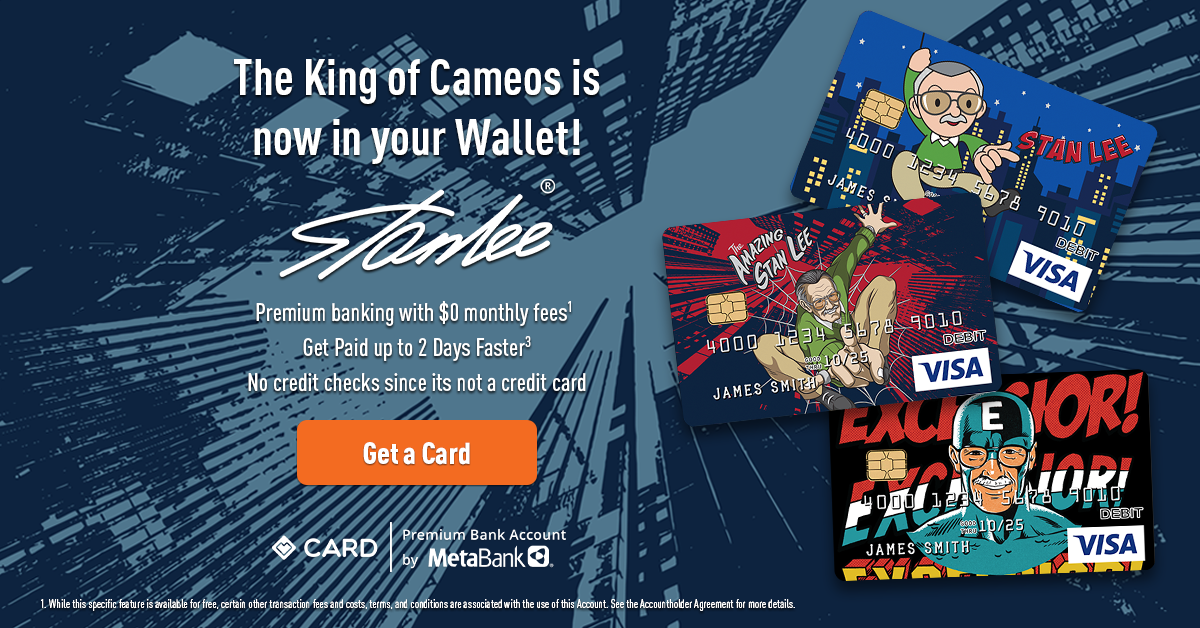 You know Stan Lee's movie, TV, and video game cameos – but did you know he popped up in Marvel Comics, too? In fact, Stan's comicbook cameos stretch much further back than any of his appearances in other mediums. How far back? We're talking almost 80 years ago!
Stan surfaced as both himself and unnamed characters in print a handful of times over the past eight decades. In honor of National Comicbook Day, we're exploring five of our favorite Stan Lee Marvel comic cameos.
Terry-Toons Comics #12 (September 1943)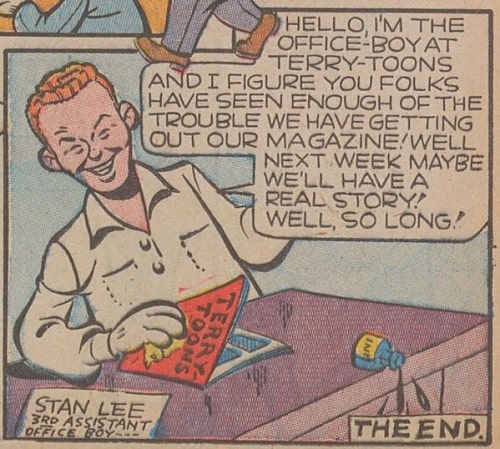 This cameo marks Stan's first appearance as himself in a comicbook – and it came just a few years after he began working for Timely Comics, Marvel's predecessor! Not only that, but it was a mere two years before, in 1941, that Stan started using the pseudonym Stan Lee for his comicbook work. Though a relative newbie at Timely, Stan already moved higher up the ladder than the third assistant office boy he portrays in this issue. By 1943, Stan held the position of editor, and at this time, he was serving in WW2 while still holding down the fort for Timely. (Though originally meant as an interim position, Stan ended up remaining in his editor job for decades.)
Black Rider #8 (March 1950)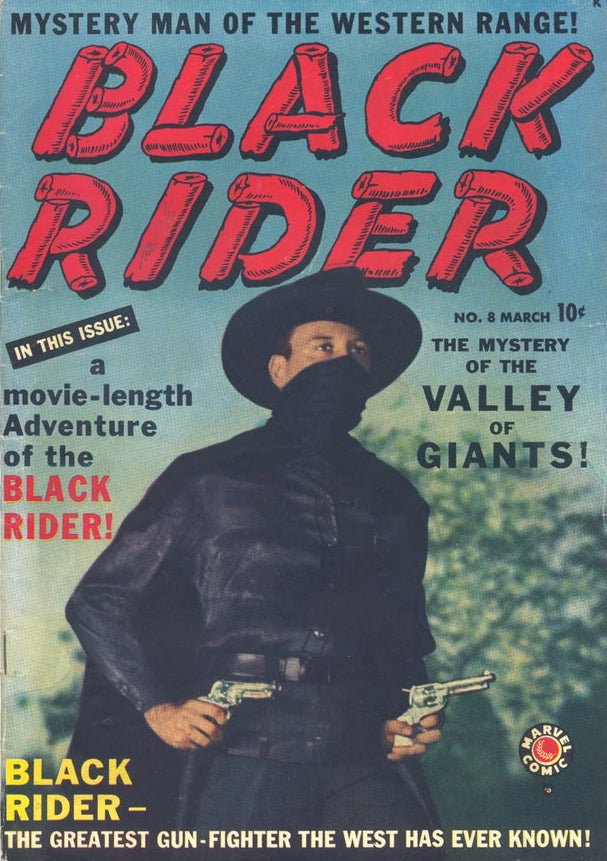 Westerns were all the rage in the early 1950s, and Stan wrote his fair share of Timely's cowboy titles. But this particular issue earns special recognition, because the cover model is none other than Stan Lee! It's not a cameo, per se, but it counts as a rare (and perhaps the only) instance of Stan appearing as a photographed character.
Fantastic Four Annual #3 (October 1965)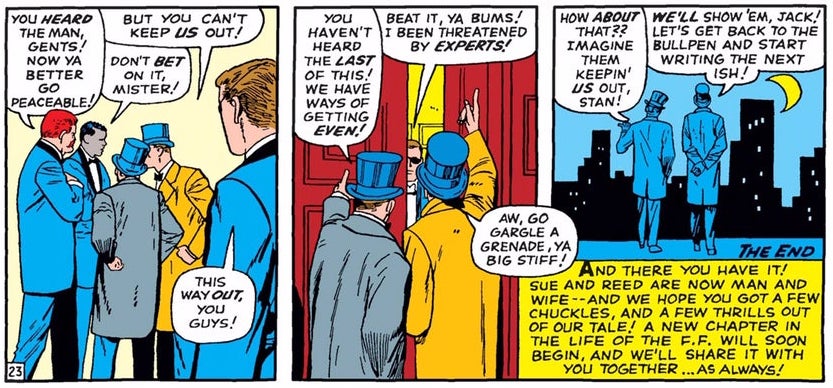 In perhaps one of Stan's best-known comicbook appearances, he joins FF co-creator Jack Kirby in the panels to crash Reed Richards and Sue Storm's wedding as themselves. As you can guess, it doesn't go well. Fun fact: Fantastic Four: Rise of the Silver Surfer pays homage to this cameo, as Stan, still playing himself, gets turned away from that same wedding for not being on the guest list. How rude!
Daredevil #79 (August 1971)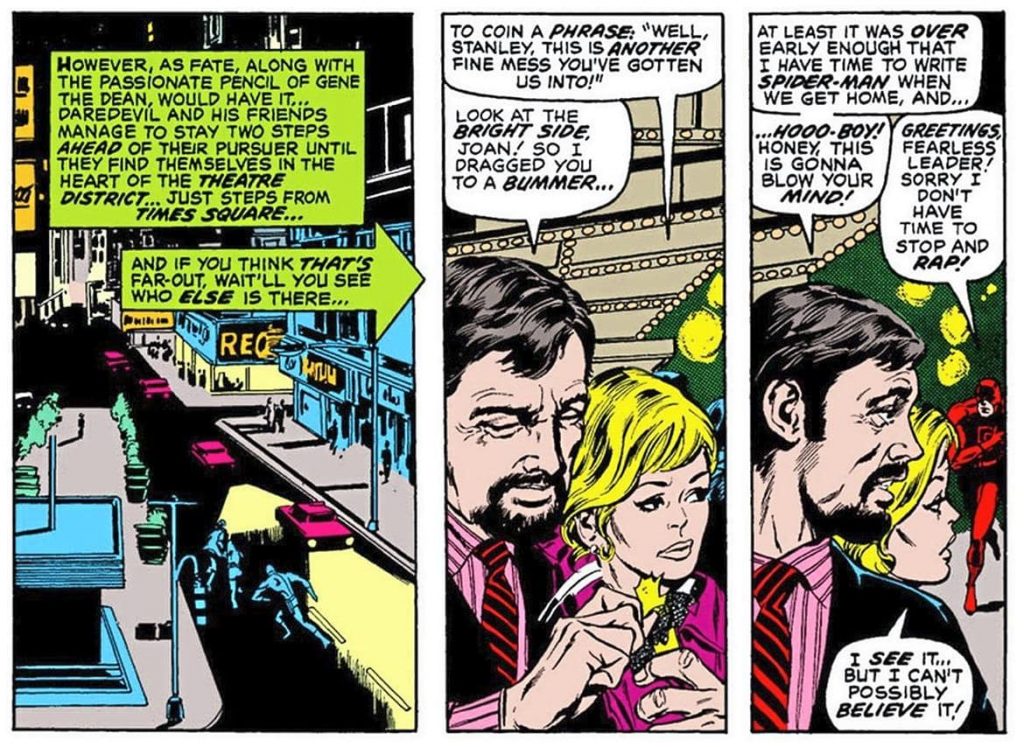 This cameo is a special one, because Stan shares the panel with his wife, Joan. (He also shared the screen with Joan in X-Men: Apocalypse.) In this issue, Stan and Joan run into Daredevil after seeing a show in the Theatre District in Manhattan. He doesn't had time to chat, though; he's too busy trying to escape from Man-Bull!
Marvel Team-Up #74 (October 1978)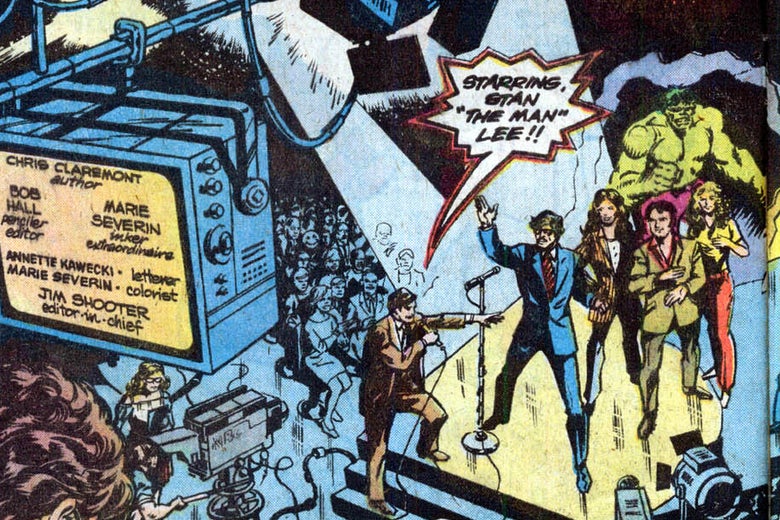 "Live from New York, it's Stan Lee!" Well, kind of. This Marvel Team-Up issue takes place in Studio 8H, home of Saturday Night Live. Peter Parker and Mary Jane attend a taping of the show… but of course, it doesn't go smoothly, and Spidey has to swoop in to save the day. Stan takes the main stage as himself in this issue, so we're going to go ahead and count this as his one – and only! – time hosting Saturday Night Live.