Marvel Studios concept artist Ryan Meinerding is at it again – this time, with homemade Spidey suits!
Meinerding, Marvel's Head of Visual Development, has offered a wealth of resources online over the last several months. By posting concept art on his social media pages, fans can sneak a peek behind the MCU's intricate creative process. Recently, he shared an unused design for an Iron Man 2 suit, an alternate costume concept for Doctor Strange, a special Iron Man poster, a look at young Thanos, and more.
Now, Meinerding is focusing on the web head. Over the last few weeks, the artist has unveiled closer looks at a homemade Spider-Man suit from Spider-Man: Homecoming.
Meinerding writes in the caption of the latest images posted that, "This is a rough keyframe I did for Spider-man: Homecoming based on the iconic Amazing Spider-man #33 cover by Steve Ditko."
That iconic issue, with art and plot by Ditko and a script by Stan Lee, marked the end of a three-issue arc in which Peter Parker goes off to college (marking the first appearances of Harry Osborn and Gwen Stacy) and his Aunt May falls seriously ill. Upon tracking down a stolen serum that could save Aunt May's life, Peter engages in a fight with Doctor Octopus and ends up being trapped underneath tons of iron. In this issue, titled "The Final Chapter," Peter finds the mental and physical strength to lift the debris off him and save his aunt.
The concept art from Homecoming that Meinerding shared pays homage to these famous panels that Ditko brilliantly crafted. While the visual is strikingly similar, the lead up to that moment in the movie is very different; in Homecoming, Peter finds himself buried under rubble while the Vulture makes his getaway, and he must gather all his power to free himself.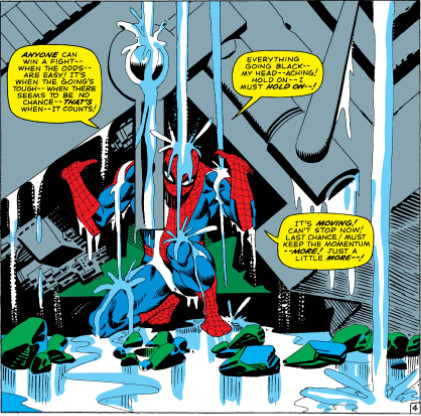 Despite the differences in build-up, both the comic and the movie convey a powerful message as fans watch Peter rise above his self-doubt.