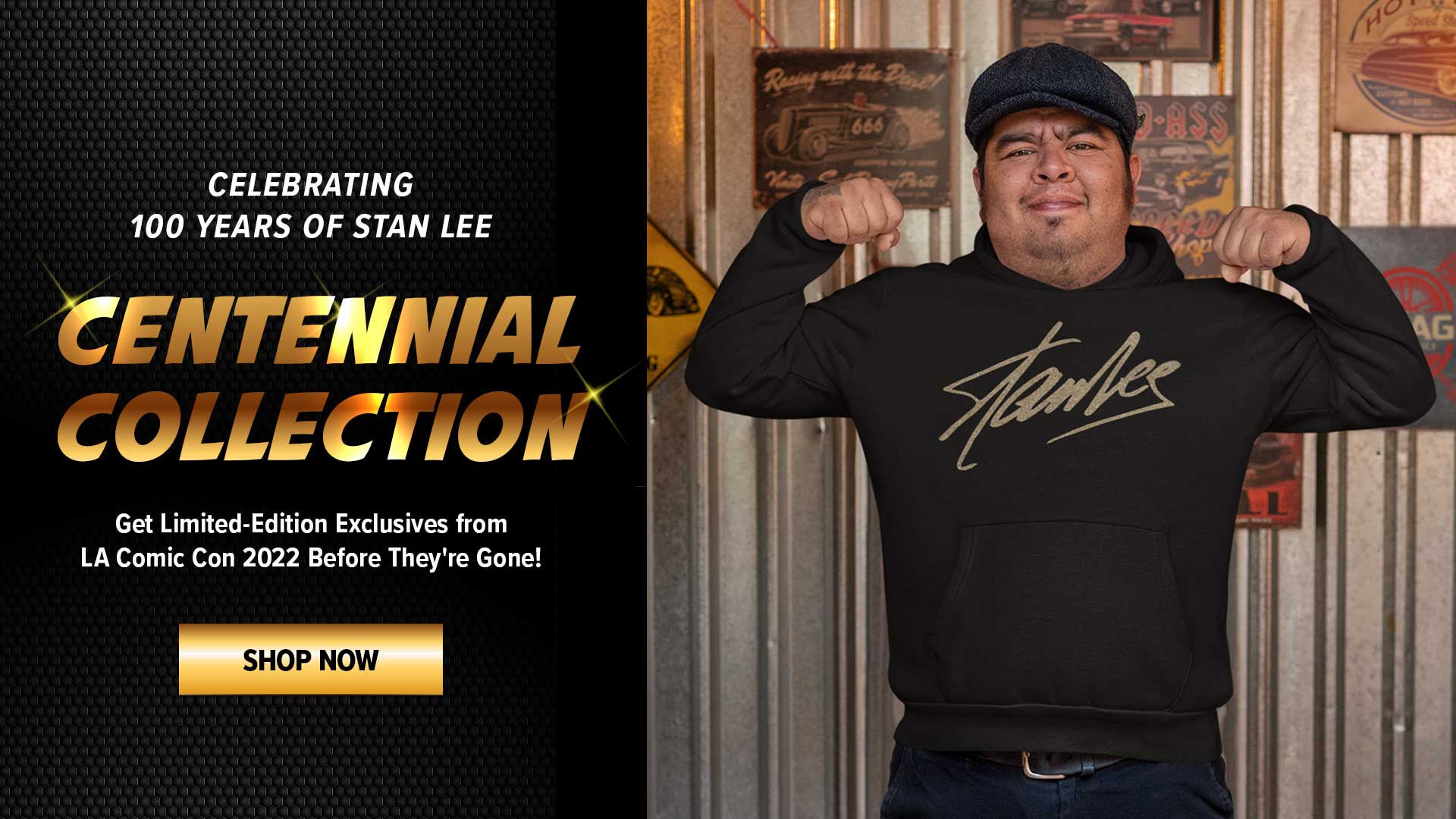 We know Marvel fans always looked out for Stan's cameos in films and TV shows – and you know he had a ball filming those roles! In the past, we've detailed some favorite Stan movie cameos, TV appearances that fly under the radar, roles he appeared in outside of the MCU, and even the times he popped up in video games! This time around, we decided to round up four of our favorite Stan-related Easter eggs that have turned up in various places – TV, video games, and even streaming platforms.
SPOILER ALERT: There is a small Stan-related spoiler for episode seven of WandaVision below. DO NOT read #1 if you haven't seen the episode yet – or go ahead and read if you don't mind knowing what it is!
WandaVision
Last Friday, we were alerted to a Stan Lee Easter egg in the latest episode of WandaVision on Disney+. This one may have caught fans off guard because it comes so early in the show! As a multitude of objects flash on the screen with the word 'Wanda' on them in different styles and fonts, eagle-eyed fans noticed a license plate with the numbers 122822 on top.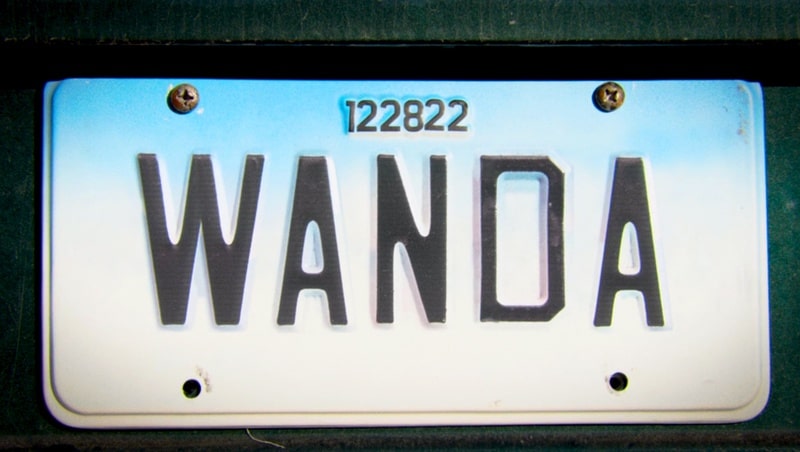 Yes, that stands for Stan Lee's birth date: December 28, 1922. Such a subtle nod, but one that we are happy so many fans spotted – and enjoyed!
Marvel's Netflix shows
Stan Lee filmed plenty of cameos for TV shows. That said, his appearances in Netflix's Marvel shows were much subtler and sometimes hard to spot. Not to mention, they didn't involve him recording anything in person!  
In these series, Stan showed up as two different looking characters – both in photo, only. Stan 'cameoed' as an NYPD police officer in many of the Netflix shows, but one of his Iron Fist appearances actually (if you zoom in A LOT) identified the character by name – which is another Easter egg! The name is Captain Irving Forbush, a character created in 1955 by Stan and Jack Kirby. (Fun fact: Forbush Man originally appeared as Not Brand Echh's mascot and his alter-ego, Irving, worked at a comicbook company.)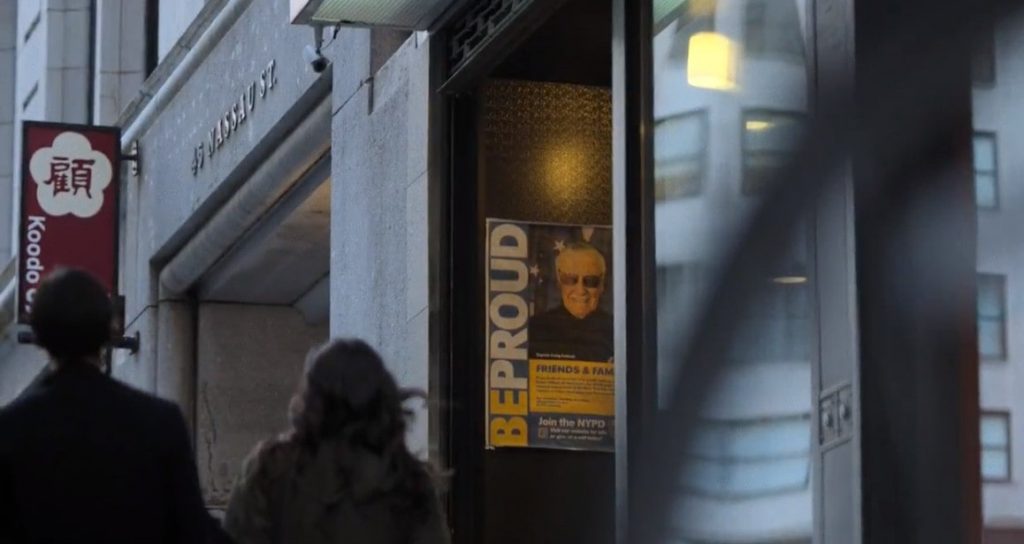 This police image pops up across the series in various ways, including on a plaque, an NYPD recruitment advert, and a poster to remind citizens to report any crimes they see.
The second character Stan appeared as was also connected to Forbush – we're just not sure exactly how. In episodes of Luke Cage and Jessica Jones, his face appears on poster promoting the legal firm Forbush and Associates, as you can see below.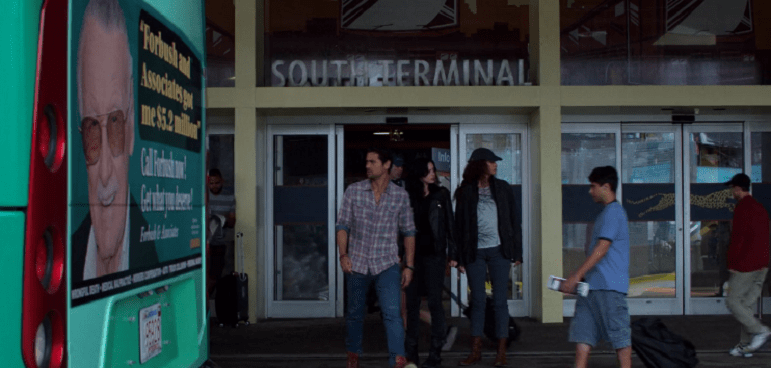 Spider-Man: Miles Morales
In the 2018 Spider-Man video game, Stan cameoed as a cook who speaks to MJ in Mick's Diner; it was a sentimental, lovely appearance that fans adored. Well, in the new Miles Morales game, the team paid tribute to that cameo by memorializing the character in a bronze statue outside the diner.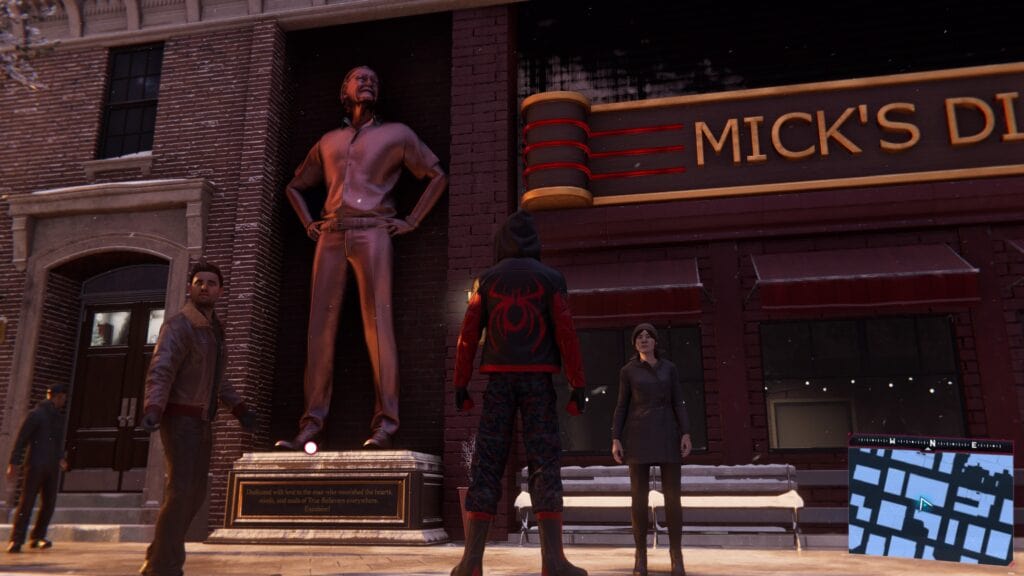 Fans won't only find a touching tip of the hat to Stan's previous cameo when they uncover this statue – they'll also earn the "Best Fries in Town" trophy! Those who interact with the figure are also in for another heartwarming surprise: a plaque that reads "Dedicated with love to the man who nourished the hearts, minds, and souls of the True Believers everywhere. Excelsior!" is located beneath the bronze statue.
Netflix
Apart from the Marvel Netflix shows, Netflix itself did something quite ingenious to honor Stan and his legacy after his passing in November 2018.
Netflix hinted at fans to type "Excelsior" into the search bar and – voila! – titles connected to Stan Lee's Marvel contributions popped up. It seems this is still something fans can do, so if you have Netflix, try it today!