Happy Monday! What better way to start the week than with a brand-new Black Widow poster AND trailer?!
With less than two months to go until Natasha Romanoff's long-anticipated standalone feature, it was only a matter of time before Marvel dropped fans another look – or two. Three months ago, we got our first taste of the MCU's Phase 4 in action with the debut of Black Widow's first trailer, and about a month and a half ago, we were treated to two new videos of the Black Widow crew.
The latest poster for Black Widow puts Natasha front and center, as she's been in the previously released looks.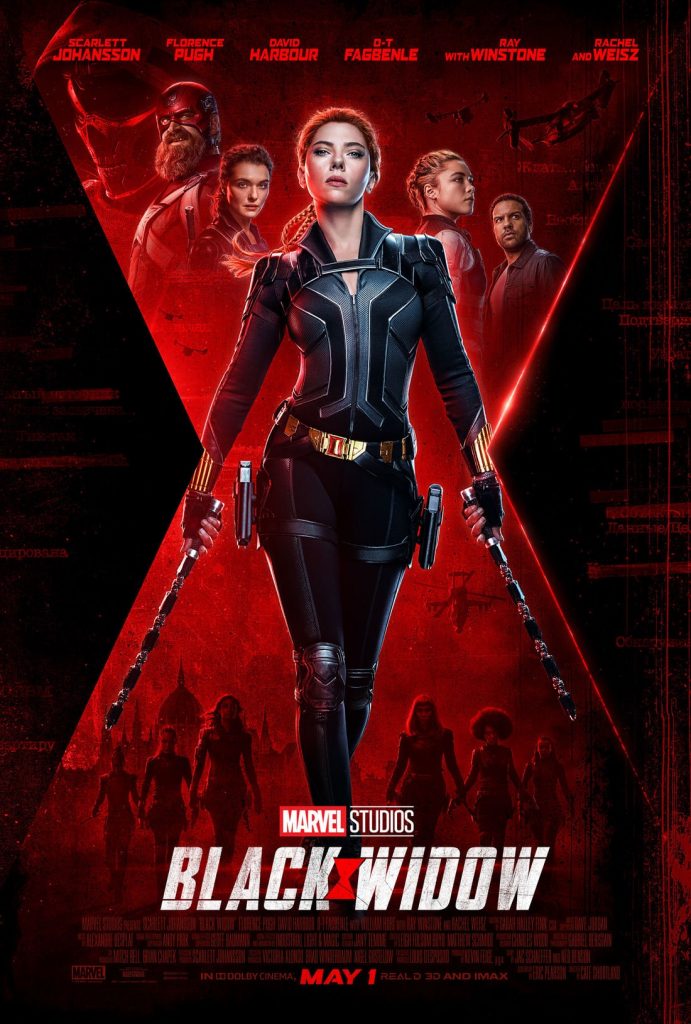 This time, in addition to the now-familiar faces of Yelena Belova (Florence Pugh), Melina Vostokoff (Rachel Weisz), and Alexei Shostakov/Red Guardian (David Harbour) on the poster, Taskmaster appears at the top left corner while Widow agents look ready for battle at the bottom.
The latest trailer, which Marvel is touting as the final one, reveals more of Taskmaster's role in the movie – including the fact that he's taken over the Red Room, according to Yelena.
Taskmaster first appeared in The Avengers #196 from 1980 and was created by David Michelinie and George Perez. The villain, and sometimes antihero, has the unique power of photographic reflexes, meaning he can replicate the physical movement and skills of any human he observes. So far in the trailers we've seen Taskmaster shoot a bow and arrow like Hawkeye, throw a shield like Captain America, slash with claws like Black Panther, flip around like Spider-Man, and fight like Black Widow herself. In the comics Taskmaster has always been portrayed as a male character with the alter ego of Tony Masters, but the trailers have kept the movie character's gender hidden. This has led some to hypothesize that the MCU version of Taskmaster will be a female.
Black Widow was created way back in 1964's Tales of Suspense #52 by Stan Lee, Don Heck, and Don Rico. Originally appearing as a Russian spy villain to Iron Man, she eventually switched sides and defected to the United States. The character has been a Marvel mainstay member of The Avengers in the comicbooks as well as co-starring in Daredevil's main title for a number of years. While Black Widow has appeared in eight Marvel Cinematic Universe movies (if you include her appearance in the end credits of Captain Marvel), this will be the character's first standalone flick and second female solo film for the studio. Although the title character died in last summer's Avengers: Endgame, Black Widow is said to be a prequel that takes place after the events of Captain America: Civil War.
Black Widow opens in theaters May 1, 2020 and is written by Eric Pearson, directed by Cate Shortland, and stars Scarlett Johansson, Florence Pugh, David Harbour, and Rachel Weisz.