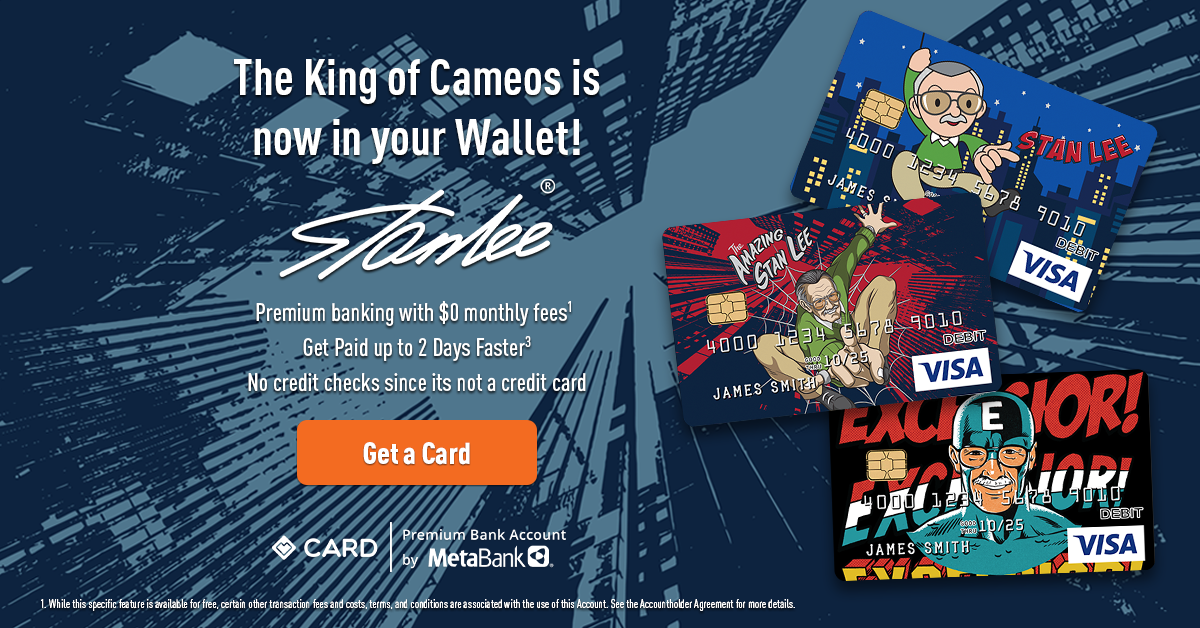 Searching for a new, terrifying comicbook series this Halloween? Look no further!
Stan Lee and Marvel (at times under its predecessor, Atlas Comics) dipped their toes into the horror genre many times over the decades. In fact, by 1953, almost 25% of comics fell into this category.
Stories filled with suspense and terror ebbed and flowed in popularity over the years, growing in the 1940s and early 1950s only to face backlash around the same time. (Not to mention, Fredric Wertham's 1954 work Seduction of the Innocent scared some into thinking that comics caused juvenile delinquency.) Partly due to growing hostile reaction to horror content, the industry adopted its own censorship board, the Comics Code Authority, in 1954, which made many publishers censor, cancel, or shift their horror titles. Luckily, the genre bounced back a decade later, and horror comics have been around in some form or another since then.
Now that you have some background history, lets dive into six of our favorite horror titles that Stan Lee worked on. (All of these began during the original horror boom when Marvel was called Atlas Comics.)
Amazing Mysteries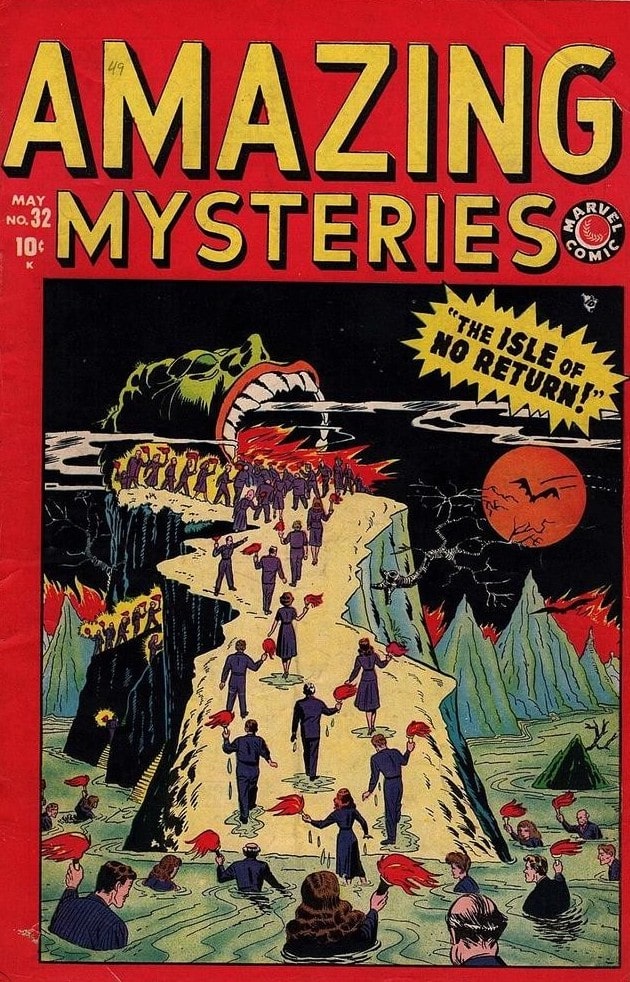 Sub-Mariner Comics took a big about-face after issue #31, turning into Amazing Mysteries with issue #32 in May 1949. With stories titled "The Menace from the Past" and "With Intent to Kill," it's safe to say that Atlas had a completely new idea for this title. (Ironically, there is a Marvel Comic symbol on the cover, though the company was not yet known by that name; that symbol was sometimes used on Atlas titles.) In fact, Amazing Mysteries #32 earns credit as Atlas's first foray into horror territory.
Captain America's Weird Tales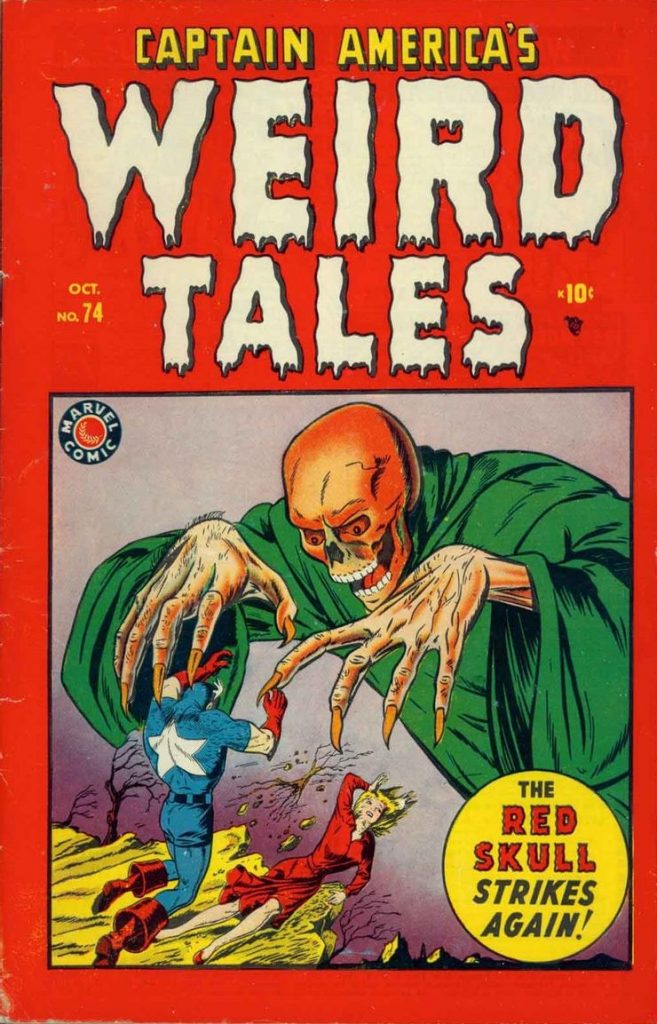 Yes, this is a real thing. Short-lived, but real. To capitalize on the horror trend, Cap went to the dark side. Captain America Comics took a sharp right turn into horrorville with its last two issues, #74 (October 1949) and #75 (February 1950), re-named Captain America's Weird Tales. And get this: Issue #75 didn't even feature Cap at all, just straight up spooky tales like "Hoof-Prints of Doom!"  
Strange Tales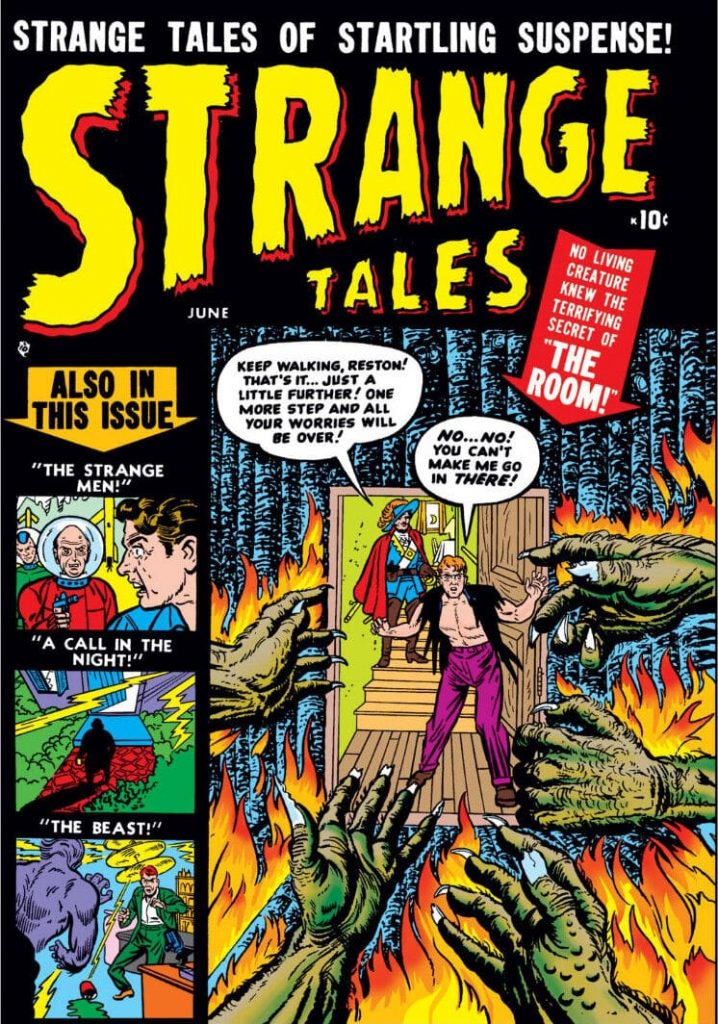 Strange Tales began its run in 1951 with an above-the-title tagline, "Strange Tales of Startling Suspense!" "My Brother Talks to Bats", "The Evil Eye!", and "The Invisible Death!" appropriately graced the title's first several issues. Perhaps the best-known character to rise from Strange Tales was Doctor Strange himself. The Sorcerer Supreme debuted in Strange Tales #110 in July 1963. So strong was his power that the series changed hands and became Doctor Strange after issue #168! (It eventually started back at one… and then Strange Tales was resurrected. Talk about strange stuff!)
Uncanny Tales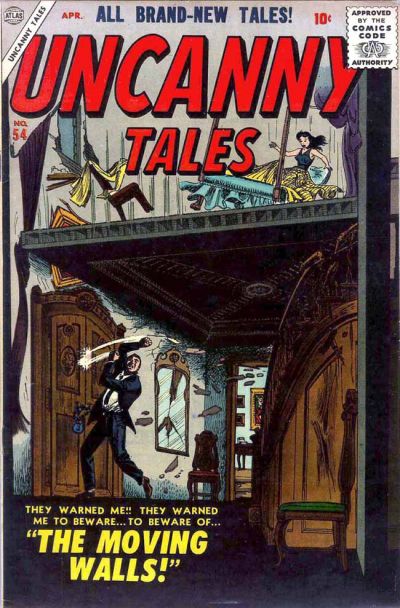 Uncanny Tales #1 came to life in June 1952. Like some other titles, Uncanny Tales would be resurrected down the line, in this case, in the 1970s. In its first incarnation, fans devoured stories such as "In the Dead of Night!", "I was a Vampire!", and "He Lurks in the Shadows!" (There also existed a series of the same name from Alan Class Comics in the UK, just in case you stumble upon that title, too.)
Journey Into Mystery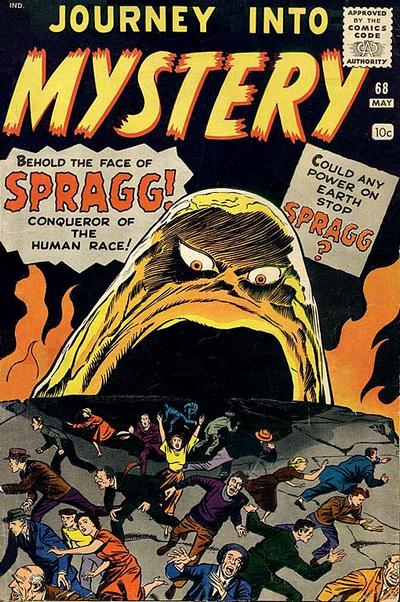 Like Uncanny Tales, Journey Into Mystery also debuted in June 1952 as a horror anthology. As occurred with numerous other books, Journey Into Mystery eventually transitioned to full-blown science fiction territory by the late 1950s. Without a doubt, the most famous character to hit it big in this title was Thor in Journey Into Mystery #83 in August 1962. He grew so popular that the series was renamed after him starting with issue #126 in 1966!
Menace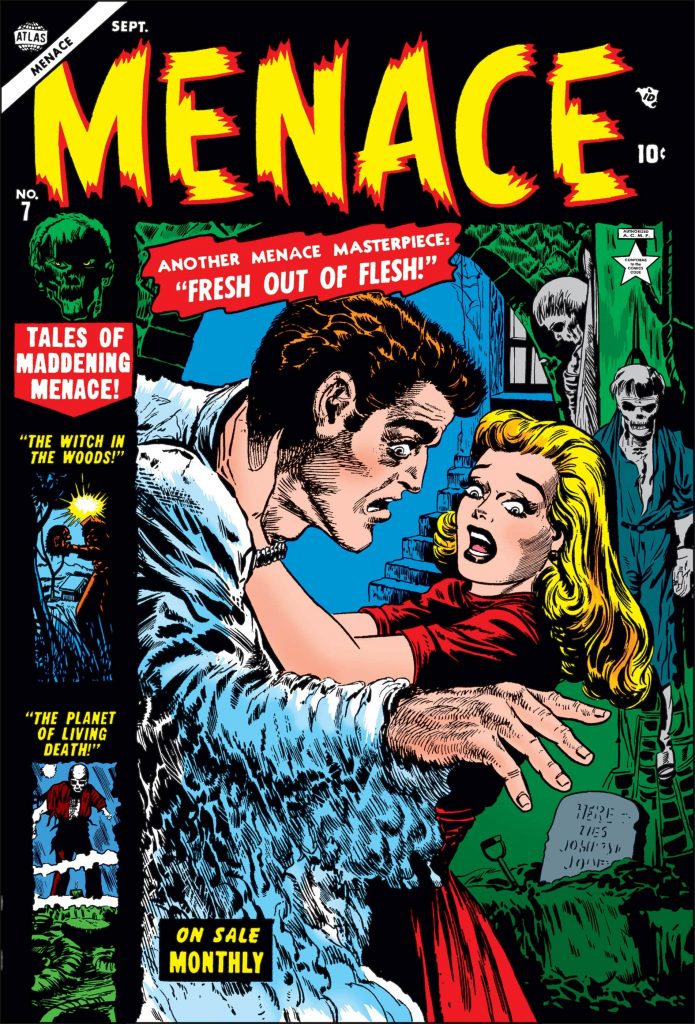 The short-lived Menace delivered stories chock full of horror, crime, and science fiction. Readers flipped through tales such as "Burton's Blood!", "The Death Notice!", and "Half Man, Half…?" during the title's 11 issue run from 1953-1954. Though it didn't last long, Menace yielded future Marvel star the Zombie, who went on to headline its own 1970s magazine.  
Finished with these titles already? For more haunting Halloween treats, check out Stan The Man in costume and the top 6 horror characters created by Stan!