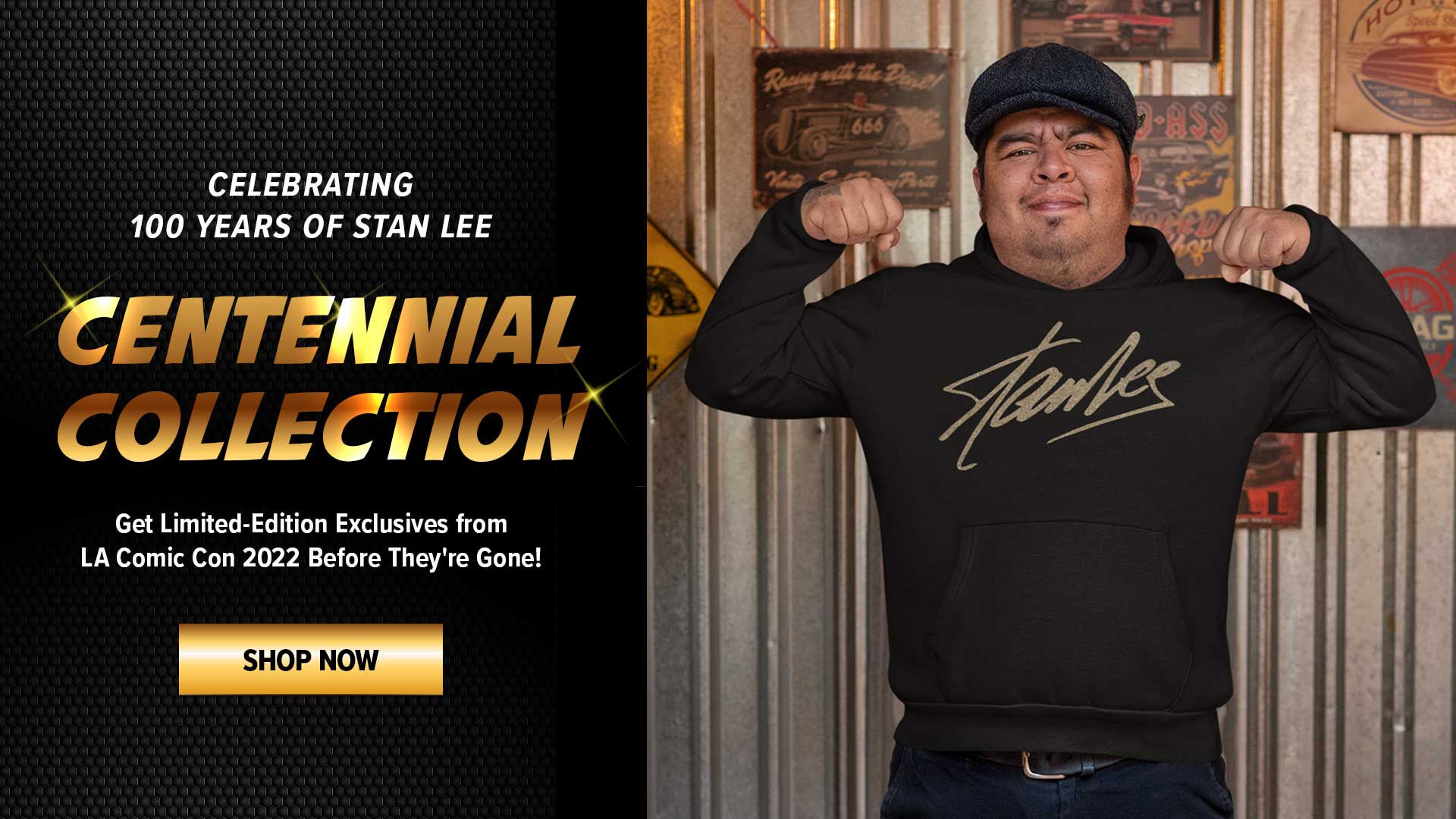 Stan Lee's assistant Mike Kelly shares memories and personal recollections that stand out most in his mind from Excelsior! A Celebration of the Amazing, Fantastic, Incredible & Uncanny Life of Stan Lee.
As the long-time assistant to Stan Lee, I was asked to help identify folks at the tribute as they came to pick up their VIP Guest Speaker bracelets. I will always remember the surprised smiles from George Perez and Marv Wolfman as I recognized them both, pointed them out and the hard-working folks at the table handed them their VIP bracelets. George was delighted and pleased as he happily declared that he didn't even have to show anyone his ID, the famous Perez smile beaming just as brightly as Marv's beside him.
Outside the theater, during the public outdoor portion of the event, I couldn't help but feel chills down my spine and stand a little taller at attention as "Taps" was performed by a military veteran bugle. Bagpipes and drums played by a full military band followed, as dozens of veterans and active personnel stood and respectfully saluted Stan in memory of his military service during World War II and his countless achievements since. As twilight settled over the sky, two soldiers in full dress uniform stood silently and proudly at guard on the black-draped stage in memoriam.
The indoor show took place inside the TCL Chinese Theatre, starting around 7:30pm. Clips of Stan's cameos and heartfelt salutes from celebrities played on the big screen between panels hosted by Stan's uber-fan Kevin Smith. Memories came back to me of how "I was there!" as Kevin recalled his first phone call exchanges with Stan at the very office where I started my career with him, and again later as Avi Arad remembered the early days of Marvel Films when he and Stan labored side by side to get the Marvel heroes onto the big screen for the first time, while I worked for Stan in the Marvel Films suite.
When videos weren't playing between panels, a microphone was set up stage left between the upper and lower seating, and several of the VIP Guest Speakers spoke from there. Seth Green, a friend and collaborator of Stan's, read a piece of his own writing. His tribute was a heartfelt thank you to Stan for inspiring him and for Stan's many contributions to his life, including being an integral part of how Green met his beloved wife during a Stan Lee autograph signing at a local comic book shop.
Another speaker was the rapper RZA, whose reading of Stan's Soapbox against bigotry, which first appeared 50 years ago in 1968, made every word resonate anew and become alive in the here and now. He made it just as relevant, if not more so, today than it was decades ago. RZA gave Stan's original words brand new life, which only confirmed their immortality. He followed up the reading by explaining what Stan's characters and his soapbox meant to him and his friends growing up and how it influenced his music.
Later in the evening, Los Angeles Mayor Eric Garcetti formally presented Stan Lee with a posthumous Key to the City of Los Angeles. In his speech, he noted that Stan would have made a great politician, because his writing was all about connecting to people from all walks of life, which good politicians are supposed to do. The Mayor even proved his geek cred by boasting of his Wolverine comic book collection!
The tribute wrapped with an audience sing-a-long to the Spider-Man theme from the original 1960s animated series that's so much a part of many fans' memories of Stan's stories and characters. Those fans and VIPs who had remained through the nearly four-hour show joined Kevin Smith and singer Griffith Frank for a rendition of the classic song right up to the triumphant ending note, after which Kevin led the audience in an exuberant "Excelsior!"
'Nuff Said.