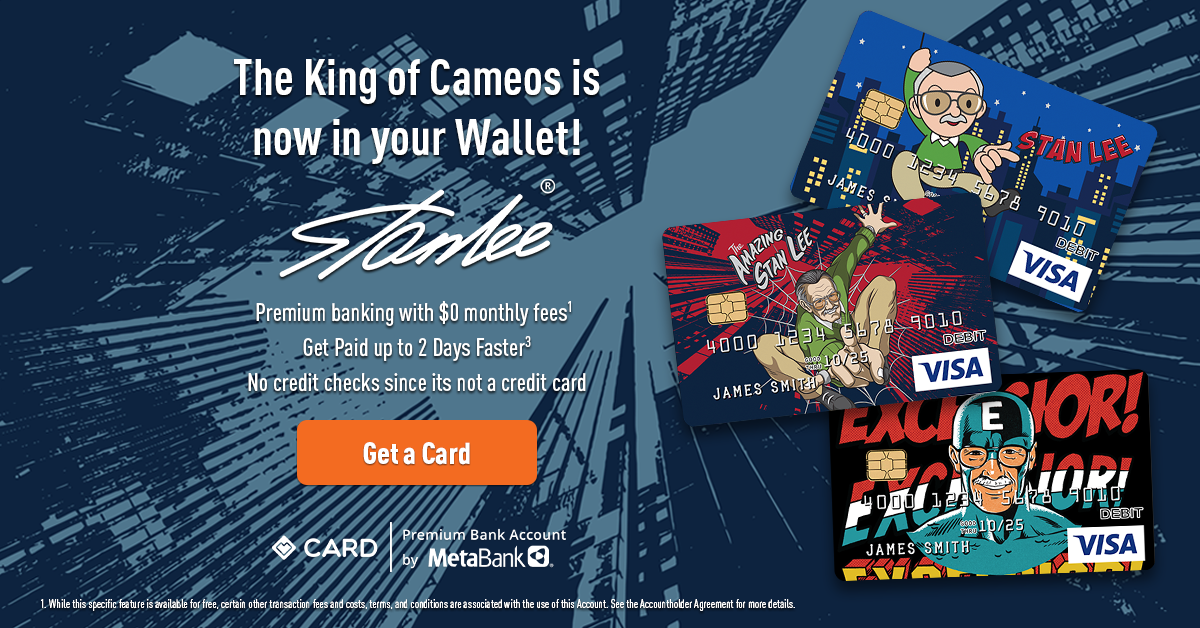 There have been several events over the years that have celebrated the extraordinary life and achievements of Stan Lee, but none have been like the tribute that took place in Hollywood on January 30, 2019. Although the night was filled with happy memories, highlights of Stan's creativity and passion, and more than a few speakers having fun on stage, there is no denying that everyone there took a moment to think about how much they miss Stan.
Excelsior! A Celebration of the Amazing, Fantastic, Incredible & Uncanny Life of Stan Lee covered his entire life, starting even before he became the Stan the Man that we all knew and loved. Before the red carpet portion of the evening, fans were treated to noshes from the White Castle food truck, one of Stan's favorites. (In fact, he was inducted into the White Castle Cravers Hall of Fame in 2017.) Then, almost 75 years after his time serving in the US Army during WWII, Stan got a proper send-off from some of his fellow veterans as they played "Taps" on bugle and then "Amazing Grace" on bag pipes while the American flag was presented in full military dress and ceremony.
As speakers from POW! Entertainment, Legion M, and Agents of Mayhem, the event's producers, took the stage in the forecourt to kick off the festivities, guests from film, television, music, and more walked the red carpet. There they shared how Stan's ideals of inclusion, compassion, and overcoming the odds influenced their respective careers, whether they worked beneath the Marvel banner or not. It was remarkable to see how Stan's work and legacy really struck a chord in the lives of stars ranging from Marvel's Chief Creative Officer Joe Quesada to rapper RZA. Old friends embraced on the red carpet, such as Flavor Flav and Taboo of the Black Eyed Peas, and new friends were made as Seth Green and his wife were spotted sharing laughs with Wesley Snipes, just to name a few.
From the forecourt, guests were ushered into the lobby of the iconic Chinese Theatre, which was filled with original paintings of Stan with some of his most famous Marvel characters rendered by artist Rob Prior, who was in attendance. Prior even created a painting of Stan and Kevin Smith live in the forecourt while guests arrived. In addition, there was a Spider-Man arcade game in the lobby, as well as a guestbook in which fans and guests could pay their respects in writing to the Man himself.
As guests entered the theater, they found the seats draped with capes of some of Stan's greatest creations, including Spider-Man, Black Panther, Black Widow, and Thor, adding even more to the night's theme of celebration. Inside, the tribute boasted speeches, anecdotes, and never-before-heard secrets from Marvel insiders, covering the numerous Marvel films and television shows that originated from the comicbooks. Of course, the panelists also acknowledged Stan's impact on comics and pop culture at large.
With speakers ranging from actor Mark Hamill to Eric Garcetti, the Mayor of Los Angeles, and many more in between, several aspects of Stan's life and career were praised, including his famous cameos, his guest work in TV shows and films, and his devotion to civil rights and representation, among other things. Each section of the tribute highlighted a different side of Stan, some that many fans already knew about and some we didn't. Even the VIP after party contained touches of Stan, with a spectacular themed cake created by Elevated Chefs as the venue's centerpiece, along with a variety of Marvel-themed cocktails like the "Hulk Smash."
All in all, it was a night filled with joy and admiration for the Man himself and all the wonderful characters and work he brought to the world. Celebrities took the time to meet fans and cosplayers with a heightened level of excitement and enthusiasm because they knew that this was the way Stan lived, with deep appreciation and love for the fans; for Stan it was a two-way street, always. Although it was unspoken, everyone at the event knew that regardless of age, level of fame, or walk of life, they were all there for the same thing: to mourn the loss of a creative giant and to celebrate Stan's lasting presence and the numerous lives he so positively changed.
Please enjoy some photos from the tribute below.