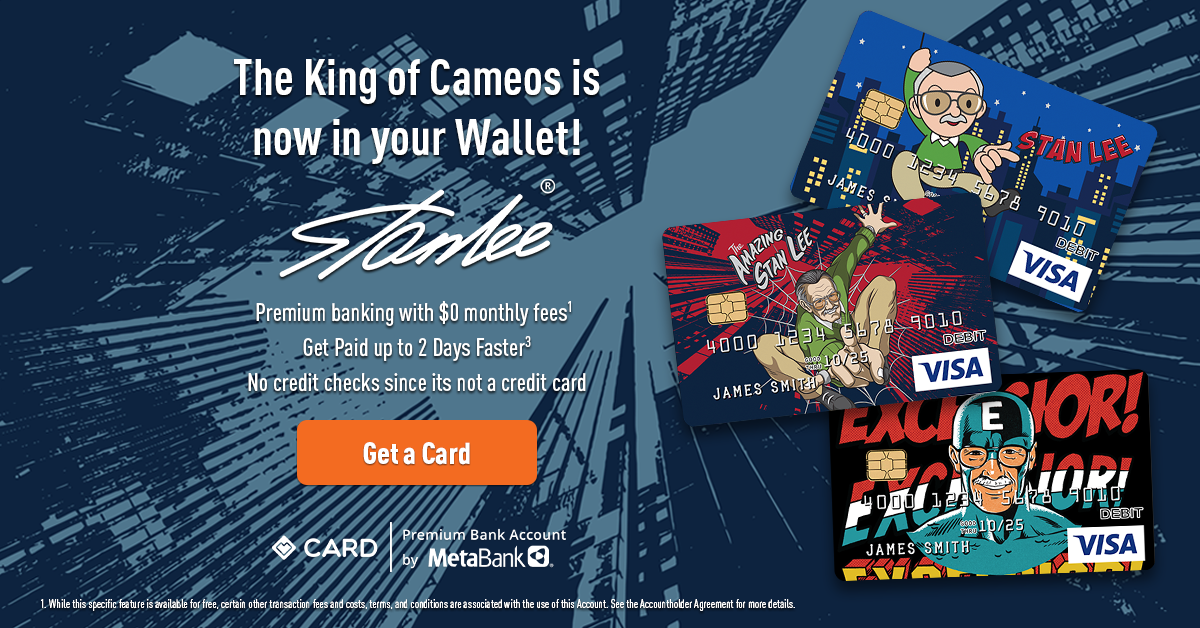 The 91st annual Academy Awards took place last night. Among the hundreds of filmmakers, creatives, and Academy members from around the world in attendance, a handful of familiar faces from the Marvel universe appeared onscreen during Hollywood's biggest night as well, including our very own Stan Lee.
Though the In Memoriam segment came near the end of the evening, we—and countless fans—were pleased to see Stan honored for his contributions to the world of film. Credited as "Comic Book Writer, Executive Producer," Stan was celebrated with a brief clip from one of his many cameos, this one from X-Men: The Last Stand; it was also heartwarming to note that Stan received the most audible applause in the theater of anyone featured during this part of the ceremony. As was evident during the show, Stan's memory and influence lives on and will continue to do so. His legacy was mentioned in more than one interview, and the fact that films based on characters he co-created took home several prizes proves that comicbook movies can transcend audiences and break barriers.
Several actors and creatives from Marvel movies were in attendance, both on the red carpet and on stage. Before the show even started, the cast of Black Panther walked the carpet, looking as stunning as ever. Marvel Studios President Kevin Feige was also spotted, supporting the company's multiple nominations. Feige paid respect to Black Panther co-creators Stan and Jack Kirby, saying:

"We've been talking a lot about Stan Lee, who unfortunately passed away. But Stan Lee and Jack Kirby, more than half a century ago created this character and started this – as all the great writers and artists at Marvel Comics did over the subsequent years – led to the torch to be passed to Ryan Coogler and allowing us to do this. That it's being recognized, is an honor."
Three cast members from Avengers: Infinity War attended the Oscars as well: Guardians of the Galaxy's Bradley Cooper, whose directorial debut, A Star is Born, was up for several awards, attended as a nominee, while Ant-Man's Paul Rudd and Captain America himself, Chris Evans, presented during the ceremony.
The show even gave us a glimpse of Captain Marvel stars Samuel L. Jackson and Brie Larson, who presented the prize for Best Adapted Screenplay. Both Jackson and Larson have been nominated for Academy Awards in the past, with Larson winning for 2015's Room.
As for the awards, history was made several times and the presence of Marvel films was a pivotal part of that. For starters, Ruth E. Carter took home the Oscar for Costume Design for her work on Black Panther, noting in her speech: "This has been a long time coming." Laughter then broke out as she quipped that "adding Vibranium to costumes is expensive!" The Black Panther cast, director Ryan Coogler, and Kevin Feige looked on as the first win for Black Panther unfolded. This was the first nomination and win for a Marvel movie for Costume Design and the first win for a black person in this category.
This win for Black Panther also goes down as the first ever Oscar triumph for Marvel Studios—and it wasn't the last of the evening, either! Hannah Beachler and Jay Heart won the very next award for Black Panther's Production Design. Beachler is also the first black person to ever be nominated, let alone win an award for Production Design. During her emotional speech, she thanked Ryan Coogler, Kevin Feige and Marvel for giving her the opportunity to do her best and for "supporting the vision of this film."
Later in the evening, Black Panther also ticked off another box, with Ludwig Göransson winning the Oscar for Best Original Score. Fittingly, it was presented to him by two distinguished Marvel actors, Tessa Thompson and Michael B. Jordan. The composer thanked Ryan Coogler, who he has known and worked with for over ten years and was happy to be with him that night "celebrating one of the most important cinematic moments in history."
As many hoped, Spider-Man: Into the Spider-Verse also came out on top last night, winning its highest honor yet: the Oscar for Best Animated Feature Film. The prize also marked another record for the evening: Co-director Peter Ramsey made history as the first black director to win in the Animated Feature category. Several members of the creative team were present on stage to accept the award and spoke about the representation the film highlighted as well as the ideals of the Spider-Man character. Though the team was unfortunately cut off as they were about to thank Spider-Man creators Stan Lee and Steve Ditko, they were able to include them in the win during an interview backstage. There, co-director Bob Persichetti told the press:

"We were just going to thank Stan Lee and Steve Ditko for inspiring this whole thing and for being a force of believing that all of us, human beings, have the potential, the capacity, to be heroes."
Congratulations to all the winners!